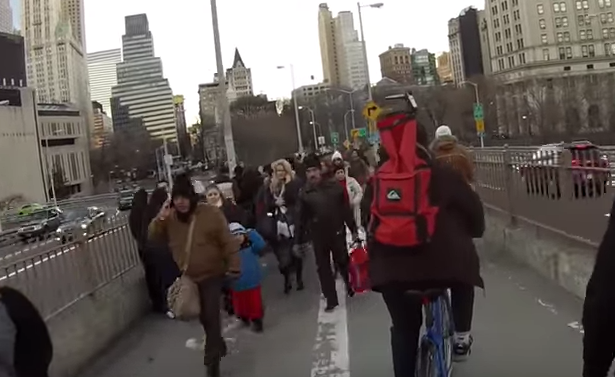 Anyone who has ever cycled along a bike lane knows the emotional trauma that pedestrians can cause. They have a perfectly good section of pavement to use, yet they choose to infringe on the cyclist's domain.
Foot traffic meanders like a moronic plague in and out of the cycle path without so much as a glance to their left or right. I've not collided with a pedestrian to date, but it's only a matter of time.
But what can you do about it? You can shout, but that makes you look overly aggressive; you can ring a bell or horn, if you have one, but the sound is generally ignored.
The following video demonstrates one cyclist's wonderfully non-aggressive approach. Try this next time you're about to lose your marbles:
(video needs sound turned on)
To be fair, it isn't 100% effective, but he's up against a monster crowd. In a less packed street, this might just work. Perhaps some bright spark could produce a speaker system that blasts the track out of a bike helmet? I hope so.
MORE BIKE STUFF:
BEAUTIFULLY ILLUMINATED VAN GOGH BIKE PATH
INNOVATIVE NORWEGIAN BIKE LIFT FOR KILLER HILL
CYCLIST HAPPENS UPON ILLEGAL RAVE