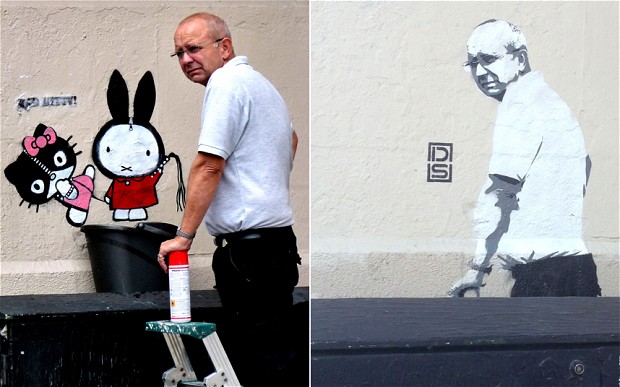 A cleaner was sent to clear up some Hello Kitty work done by London graffiti artist DS. Little did the cleaner upper know he was being watched in the process. DS has commented that he doesn't mind his work being cleared up, it's par for the course, but the fact that it happened just 8 hours after completion annoyed him. So he snapped the cleaner and immortalized him.
A month on and the piece is still sat there on Essex Road, Islington. DS was also quoted in the Telegraph as saying
Banksy does a piece and it gets protected by the council but another piece from a just as edgy artist … gets taken down.
Fair point. Here's some of his other works:
MORE STREET ART:
RUSSIAN LAMPSHADE BASED STREET ART