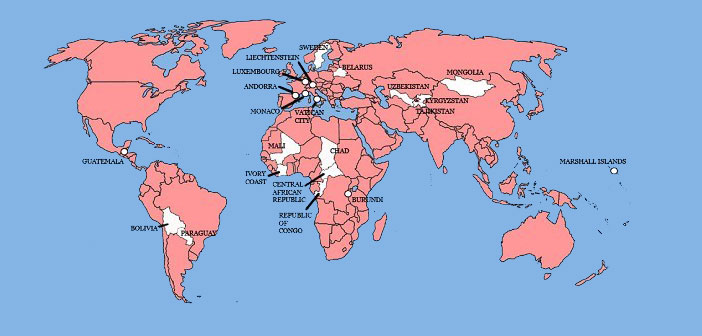 It is well known that the British Empire once covered a quarter of the globe, but our blood-thirsty, power-hungry, meddling tendrils drifted much further afield than even that impressive fact admits.
Great Britain is so great that it has invaded roughly 90% of all of the countries on earth. That's a monumental statistic.
This new level of detail comes from a book written by Stuart Laycock, called All the Countries We've Ever Invaded: And the Few We Never Got Round To. In Laycock's search, aside from out and out military invasions, he also included any countries which have been at the sharp end of British pirates, privateers and armed explorers – as long as they were operating with the approval of the British government.
A couple of surprise entrants:
Iceland: was invaded by 745 marines in 1940 for refusing to join the war on their side. The Icelanders didn't fight back, but they did protest. As you would.
Vietnam: was repeatedly overrun by Brits since the 17th century. The most recent was between 1945 and 1946 when they fought the communists for control of the country.
Here are the 22 countries we haven't invaded (yet):
Andorra
Belarus
Bolivia
Burundi
Central African Republic
Chad
Congo, Republic of
Guatemala
Ivory Coast
Kyrgyzstan
Liechtenstein
Luxembourg
Mali
Marshall Islands
Monaco
Mongolia
Paraguay
Sao Tome and Principe
Sweden
Tajikistan
Uzbekistan
Vatican City
Although many countries have changed names and borders over the years, Laycock based his research on the current borders. Laycock is quick to say that his research is not meant to be damning, it is supposed to surprise and amuse – and that it does.
Laycock says:
"Other countries could write similar books – but they would be much shorter. I don't think anyone could match this, although the Americans had a later start and have been working hard on it in the twentieth century."
MORE HISTORY:
SOME SURPRISING WWII STATISTICS
WONDERFULLY WEIRD WWII AIRCRAFT PROTOTYPES
DID AMERICA REALLY DESIGN BAT BOMBS?