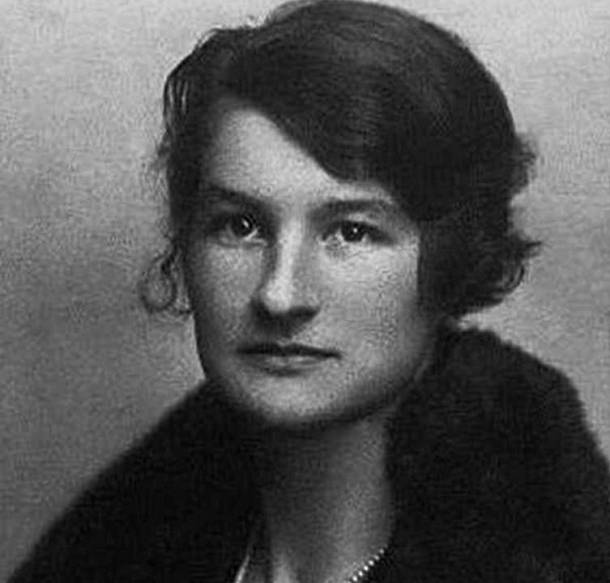 Virginia Hall was an impressive human. She worked as a spy during World War II with the British Special Operations Executive (SOE).
I reckon, in a straight race, Virginia Hall would count as one of the most adventurous and brave people that ever limped across the earth (more on the limp later).
If the Gestapo name you as "the most dangerous of all Allied spies," you know you're doing something right.
Hall was born in Baltimore, Maryland in 1906, and took to learning languages with ease. She studied French, German and Italian and decided to finish her studies in Europe. She spent some time traveling and learning in Germany, France and Austria.
Hall hoped to join the Foreign Service but a violent mishap would prevent her from achieving her dream. During a hunting trip in Turkey, she accidentally shot herself in the leg. Later the leg was amputated from the knee down and replaced with a wooden prosthetic which she named "Cuthbert."
As WWII kicked off, Hall joined the Ambulance Service in France, where she happened to be at the start of the conflict.
She made her way to London and joined the SOE who promptly sent her back to France. There she spent the next 15 months helping to coordinate the activities of the French Underground movement under the guise of being an American journalist.
In November 1942, Germany seized the entirety of France. By this time, Hall had made a significant nuisance of herself and was listed as one of the German's most wanted – "the limping lady" as they called her. The Germans had widely distributed posters calling for her capture, so France rapidly became even less safe than it already was.
Hall needed to get out of France before the net closed in on her. As a spy she would certainly have been tortured, and she wasn't keen on that idea. So, she escaped to Spain. Hall managed this feat by crossing the Pyrenees. That, of course, would be a bit of a mission for anyone, let alone someone who was probably ill-prepared and sporting a wooden leg. The fact that she made the crossing alive is nothing short of miraculous.
Apparently Cuthbert had been quite unkind to her stump and, during this epic mid-winter trip, she managed to send a message to SOE HQ in Blighty advising them of Cuthbert's misdemeanours. The message was clearly misunderstood and the reply came back:
"If Cuthbert is giving you difficulty, have him eliminated."
She completed her heroic journey, but, once in Spain, because she had no papers, she was imprisoned. A smuggled letter to the American consul in Barcelona finally got her released and she began working in Spain, however, she was not particularly pleased with her role. It wasn't the risky business she so thrived on. So, she wrote a letter asking for a transfer:
"I am living pleasantly and wasting time. It isn't worthwhile and after all, my neck is my own. If I am willing to get a crick in it, I think that's my prerogative."
OSS weren't daft, they knew her special skill set and promptly granted her request.
Cuthbert prevented her from parachuting in, so a British motor torpedo boat landed her in Brittany with a forged French identification certificate for a new identity – Marcelle Montagne. Codenamed "Diane," she once again eluded the Gestapo and made contact with the French Resistance movement in central France.
Whilst there, she disguised herself as an elderly milk maid, dying her hair grey and adopting a shuffling gate and a long skirt to disguise her incriminating limp.
Hall played a significant role in training three battalions of Resistance forces to wage guerrilla warfare against the Germans and kept up a stream of information. She and her troops destroyed bridges, derailed freight trains and severed key rail networks. They killed 150 Germans and captured 500 more. She was a sizeable spanner in Nazi ambitions.
Hall never spoke much of her endeavours, even to her family, but her niece recalls a letter she had received which sent shivers down her spine:
"She said that the Germans had caught some people and hung them up by a butcher's hook. It was a terrifying letter."
In 1945, Hall was awarded a Distinguished Service Cross, making her the only civilian woman in World War II to be awarded one. President Truman was so moved by her effort that he wanted to publically award it to her. Hall wasn't too fussed about the pomp and said she was:
"Still operational and most anxious to get busy."
After the war, Hall continued her career and worked for the CIA from 1951 as an analyst of French political affairs. In 1966 she retired to a farmhouse in her native state of Maryland.
What a literal legend.
 MORE WWII STORIES:
THE KOREAN WHO FOUGHT FOR 3 COUNTRIES
STRANGE WWII GERMAN PROTOTYPE CRAFT
SOME INTERESTING WWII DEATH TOLL STATS