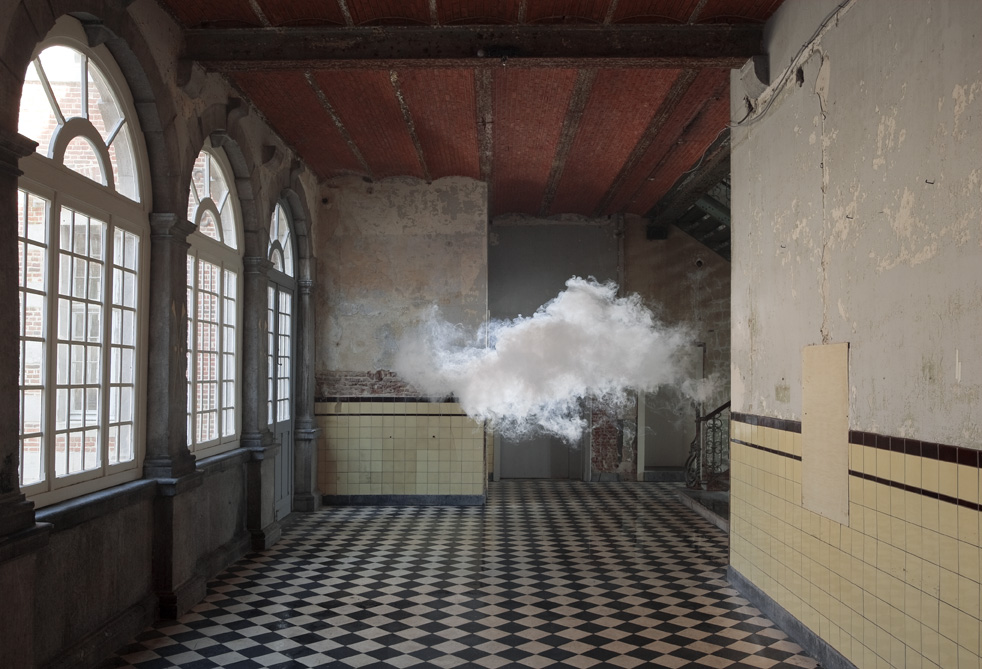 Berndnaut Smilde is a Dutch photographer who makes miniature clouds and then takes photos of them as they hang, jauntily in the mid-air.
It's not just dry ice though, Mr Smilde actually uses a bit of scientific jiggery-pokery to create honest to god mini-clouds. He uses little more than smoke and water vapour but the effect is really rather enchanting if you ask me.
These clouds can only be created in a space which is cold and damp, and with little air circulating around. He first creates a wall of moisture with a standard house plant water sprayer; next he releases a puff of fog from a smoke machine and watches the action unfurl as the two collide.
Smilde tinkers with the position and the quantities of each of the cloud ingredients whilst his photographer snaps away. He can make 100+ clouds per session before he gets the one he is looking for.
I see them as temporary sculptures of almost nothing—the edge of materiality. It looks like you can dive into them or grab them, but they just fall apart. There's a duality that I really like where you're trying to achieve this ideal thing that then collapses just moments later.
Meteorology isn't for everyone, but I reckon most people will find these images at least a little bit pleasing. Click here for Berndnaut's official site. Click the images below to enlarge:
READ NEXT:
INCREDIBLE FOOTAGE OF A ROLL CLOUD
CLOUDS CASTING 1000 MILE SHADOWS
HOW TO PREDICT THE WEATHER WITH CLOUDS
AMAZING VIDEO OF MAMMATUS CLOUDS IN MICHIGAN