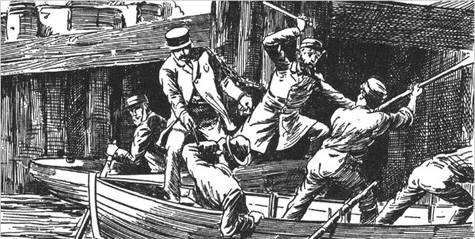 Today's lady pirate is Sadie Farrell, known affectionately as Sadie the Goat. She was a notorious and vicious gang leader in New York's "bloody" 4th ward. She started her criminality on the shore and was known for head butting her victims in the stomach before robbing them (hence the name "Goat").
This woman pirate was also well know for having a longtime beef with a 6ft tall female bouncer – Gallus Mag – from a bar called 'The Hole'. Gallus had reportedly bitten off her ear in a bar brawl. Here's a description of Gallus written by Herbert Asbury's in his book The Gangs of New York:
It was her custom, after she'd felled an obstreperous customer with her club, to clutch his ear between her teeth and so drag him to the door, amid the frenzied cheers of the onlookers. If her victim protested she bit his ear off, and having cast the fellow into the street she carefully deposited the detached member in a jar of alcohol behind the bar…. She was one of the most feared denizens on the waterfront and the police of the period shudderingly described her as the most savage female they'd ever encountered.
Sounds nice doesn't she?
Anyway, back to Sadie the Goat. In 1869 she was hanging around the waterfront area and saw an incompetent section of the Charlton Street Gang try to nick a small sloop (a type of boat) and fail miserably. She offered to lead them and within a few days they'd forcibly seconded a much larger sloop and her career as a lady pirate had begun. They spent the next few months parading up and down the Hudson and Harlem rivers, pillaging small villages, raiding farms and robbing the occasional riverside mansion. Sadie was also famed for taking captives and occasionally making them walk the plank.
Walking the plank is often thought to have been one of those Hollywood inventions, but it really did happen. It wasn't common place and was more of a specialist sadistic option, but it was mentioned in Francis Grose Dictionary of the Vulgar Tongue back in 1788. The victims would often be bound, blindfolded and occasionally weighted down. The poor salty souls died of drowning, freezing or shark attack. So, not a particularly nice activity at all.
Her piracy career was pretty short lived (just a few months), once the farmers started firing guns back at them it became a bit too dangerous and they gave it up for a life back on land. She was known from then on as the "Queen of the Waterfront" which is a lot more ladylike than Sadie the Goat.
Sadie ended up having a truce with Gallus Mag who gave her her ear back. She kept the ear in a locket and wore it always. AAaahhh…. I do love a nice ending.
Unfortunately, as with all of these swash buckling tales, it's difficult to know how much and how little is gospel truth about Sadie Farrell. She was mentioned in Gangs of New York, but little else is reported. No police reports or newspaper cuttings remain, if indeed they ever existed. I'm happy to suspend disbelief for now though.
MORE WOMEN PIRATES: