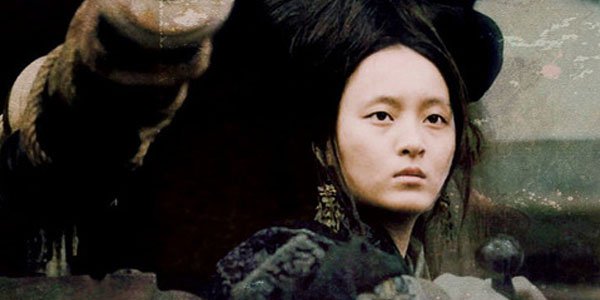 Only a handful of women pirates are recorded in history, whether that's due to the misogyny of contemporary historical writers or simply because the women folk had better things to do than maraud about, we'll never know. But the most feared and revered female of all time is a lady called Ching Shih, or Widow of Zheng. She ended up being one of the most successful pirates of all time, regardless of gender.
Ching Shih was active as a pirate in Qing China in the early 19th century and had a hugely powerful/massive fleet. Estimates of it's size vary from 300 to 1800 junks and between 20,000 and 80,000 men. Even the most conservative of those estimates is pretty impressive.
Ching Shih started life as a Cantonese prostitute who was captured by pirates in 1801. She married the famous pirate Zheng Yi who was master of the Red Flag Fleet and put the willies up the Chinese for many a year. Zheng died in Vietnam so Ching Shih masterfully maneuvered herself into the prime spot and became leader. She knew that she needed ground rules if she was to keep her rabble from revolting and made the following code of rules:
1) If any of the crew started giving their own orders, or ignoring hers, they were instantly beheaded.
2) Don't steal from the public fund or from villagers that supplied the pirates.
3) All goods stolen must first be presented to the group.
4) Any cash found must be given straight to the squadron leader or you would face a whipping.
Violations to the code would cost you flogging, being put in irons or quartering, none of which sounds much fun. If you were caught deserting from the pirate gang you would have your ears lopped off and be paraded around the ships for all to see.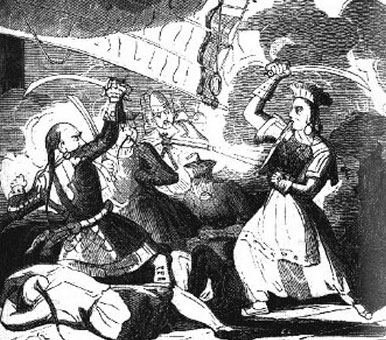 Ching's fleet were so successful she was able to levy taxes from coastal villages which wound up the Chinese elite no end. When the Chinese navy finally tried to take her out in 1810 they failed and stooped to the level of asking the mighty British and Portuguese navies to lend an oar. They failed too, her fleet was fearsome indeed. One enemy, according to an eye witness, had his feet nailed to the floor before being beaten senseless.
Later in 1810, in desperation to reach some kind of accord, the Chinese government offered pirates an amnesty. Ching was no fool and managed to draw up a pretty amazing deal for her and her crew. She got to keep her booty and her men were allowed to join the royal navy if they so desired.
She took her money and opened a gambling house which she ran until she died in 1844, aged 60. Pretty amazing life story hey? Here's some more lady pirate action if you want?: