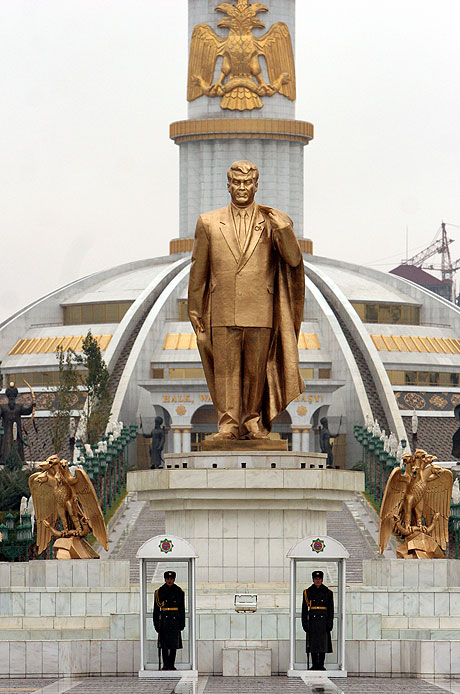 I've not been to Turkmenistan and I've never met anyone who has been there, but it sounds pretty bonkers. It's the richest nation in Central Asia despite being about 80% desert, thanks to some pretty major oil reserves. They were a nomadic people for most of their history, and are famous for their excellent carpets, they even have a bit of carpet on their flag.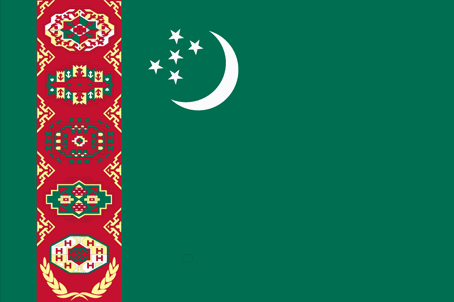 Saparmurat Niyazov, Turkmenistan's leader from 1990 until he died in 2006, set up an incredibly strange and overbearing cult of personality during his reign. Some of the laws he introduced sound like a joke, but unfortunately for the Turkmen it was very real.
The Turkmenistan media referred to him as "His Excellency Saparmurat Türkmenbaşy, President of Turkmenistan and Chairman of the Cabinet of Ministers" which is a bit over indulgent. He just called himself Türkmenbaşy, meaning Leader of Turkmen.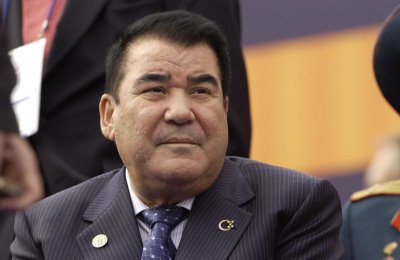 He was a very rich man and had a strangle hold on the country and it's oil, exercising his power in a banal and whimsical fashion. He was in charge whilst the communist tendrils of Russia shriveled away; he promised democracy but all he actually seemed to do was flood the entire nation with his name and image. He named the town of Krasnovodsk after himself – Turkmenbashi, but it didn't stop there, naming schools, airports and even a meteorite after himself and members of his family. Even the calendar wasn't spared, September was renamed Ruhnama after the book he had finished writing in the month of September. The month of April and the word "bread" became Gurbansoltan Eje, the name of his mother.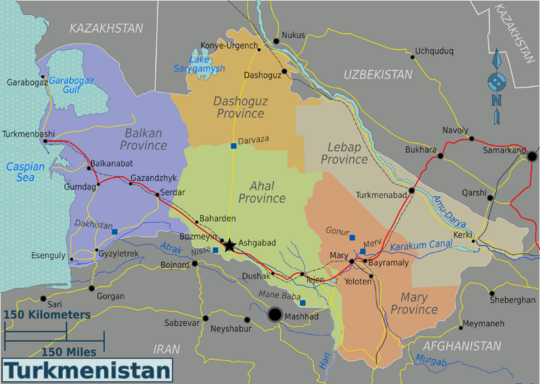 He banned internet usage for anything other than state business and in 2000 closed all internet cafes. In March 2004, 15,000 public health workers were dismissed including nurses, midwives, school health visitors and orderlies. In February 2005 all hospitals outside Aşgabat (the capital) were ordered to shut, with the reasoning that the sick should come to the capital for treatment. That is just plain mental.
He also shut all libraries in the country other than those in the capital. He decided that the only books people needed to read were the Koran and his book, Ruhnama. If you like, you can read the whole book online here.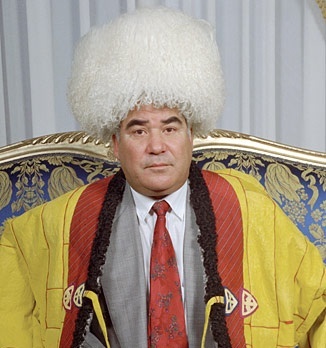 In 2006 he cancelled or slashed most pensions and ordered any pensions that had been paid for the previous two years be paid taken back! Of course this caused deaths in the elderly population, but The Ministry of Foreign Affairs complained that Western media were making it up and blowing things out of proportion.
His madness didn't stop there: Niyazov banned the use of lip syncing at public concerts in 2005 along with sound recordings at "musical performances on state holidays, in broadcasts by Turkmen television channels, at all cultural events organized by the state… in places of mass assembly and at weddings and celebrations organized by the public". Why? His thinking was that recorded music hindered the development of musical arts. Quite baffling.
Niyazov also banished dogs from the capital because of their smell and ordered an ice rink to be built so that people from the desert could learn to ice skate. He had heart surgery in 1997 so had to quit smoking, so he banned smoking in all public places and all public employees had to quit too. So these days it is only inside restaurants and bars where you can spark up.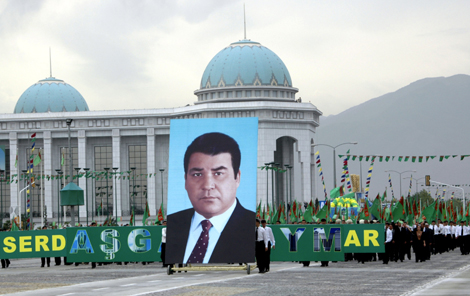 He outlawed opera, ballet, and the circus in 2001 for being "decidedly unturkmen-like" and in 2004 outlawed men having long hair or beards. He abolished the use of makeup by news readers as he said he was finding it difficult to tell apart the males and females and discouraged gold teeth saying that you should strengthen your teeth by chewing on bones like dogs do so that they don't fall out.
Here's the quote: "I watched young dogs when I was young. They were given bones to gnaw to strengthen their teeth. Those of you whose teeth have fallen out did not chew on bones. This is my advice…"
He had a suprise heart attack in 2005 and died. His successor  Gurbanguly Berdimuhamedow is slowly dismantling some of his more wacky decrees whilst installing his very own, slightly more covert, cult of personality. The drama continues.