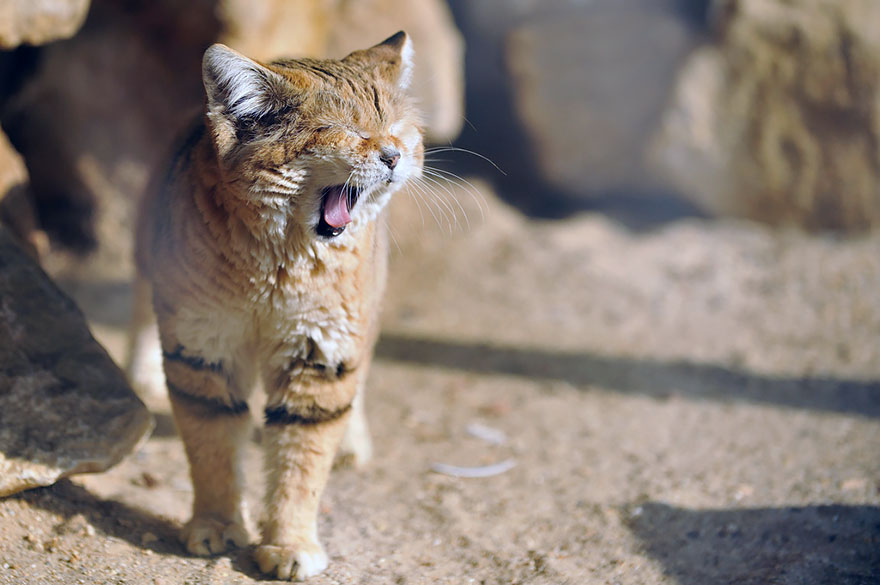 The sand cat (Felis margarita), also known as the sand dune cat, is the only cat that spends the majority of its time in true deserts. Of all the wild cats we've tackled in this series, this is the one that looks most like your regular moggie; if anything, the sand cat is even cuter than a standard cat because it retains its kitten-like looks throughout its adult life.
Living predominantly in Central Asia and North Africa, the sand cat is officially listed as Near Threatened. There are only relatively small pockets of individuals left and they seem to be on the decline, perhaps only 10,000 individuals left in the wild.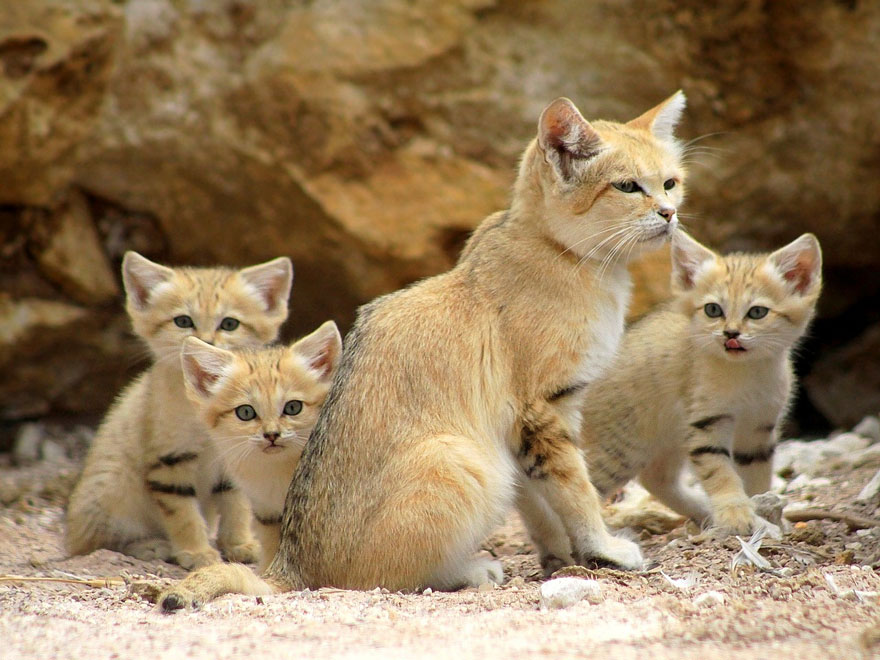 The first European to describe the sand cat was Victor Loche in 1858. As cats go, it's a small and stocky guy, its body length ranges from 39 to 52 cm (15 to 20 in), with a 23.2 to 31 cm (9.1 to 12.2 in) long tail. Its fur matches its surroundings with the addition of some very fetching go-faster-stripes on its front legs.
The sand cat's feet are particularly hirsute with long hairs between the toes partially covering the pads of their feet. This helps them deal with the chilly temperatures at night and also protects the sensitive pads from the burning heat of the sand in the day. The hairy underfoot has the added bonus of making their footprints unclear in the sand and harder to follow.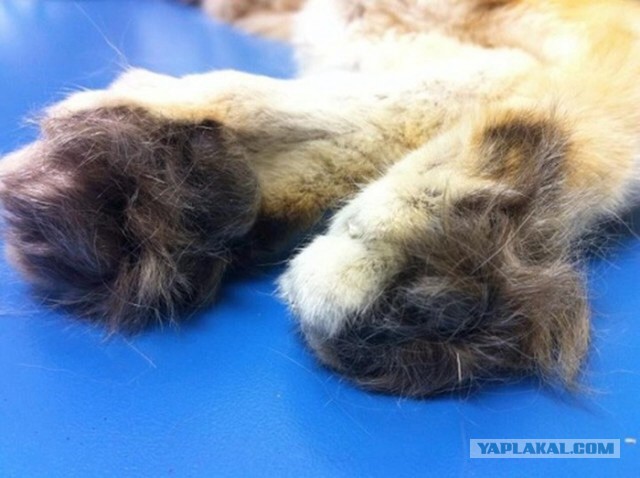 Sand cats are truly hardy little guys, they can survive temperatures ranging from −5 °C to 52 °C. If things get more extreme than that, they hide in their burrows, which they steal from rodents, foxes and porcupines. The sand cat can go without water for months at a time, making do with the moisture it gets from its meals.
The sand cat's ears are pretty large, with a particularly wide ear canal, but the ears are set low on the head, possibly to prevent sand getting blown in there and jamming up the pipes. It's presumed that the larger ears are to aid it in the hunt for prey beneath the surface of the sand in such barren, lifeless areas.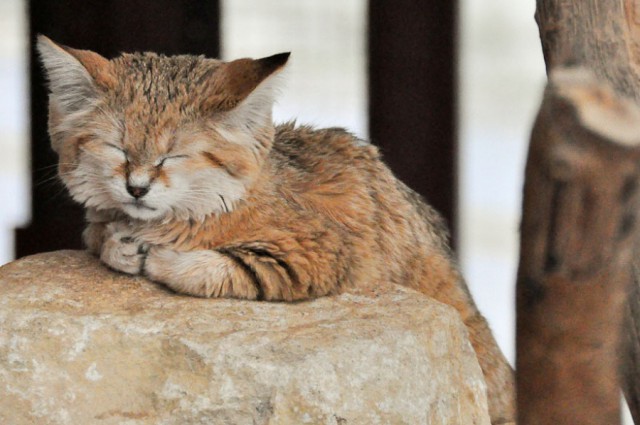 The sand cat is the proud owner of a particularly powerful bite too. Its bite force quotient (BFQ) is the biggest of all the cats (according to some websites, others give the prize to the jaguar or leopard). The BFQ compares strength of bite to body size, and the small sand cat has some impressive jaws on it. The animal with the biggest BFQ in the Universe is the Tasmanian devil at 188, the sand cat clocks in at 133.1, the European badger is down at 109.
I'm sure you only came along to look at the pics, so here are some more:
So, all in all, they're cute, crafty and carry a killer bite. We salute you sand cats of planet earth.
MORE:
WILD CATS PT 3 – SUNDA CLOUDED LEOPARD