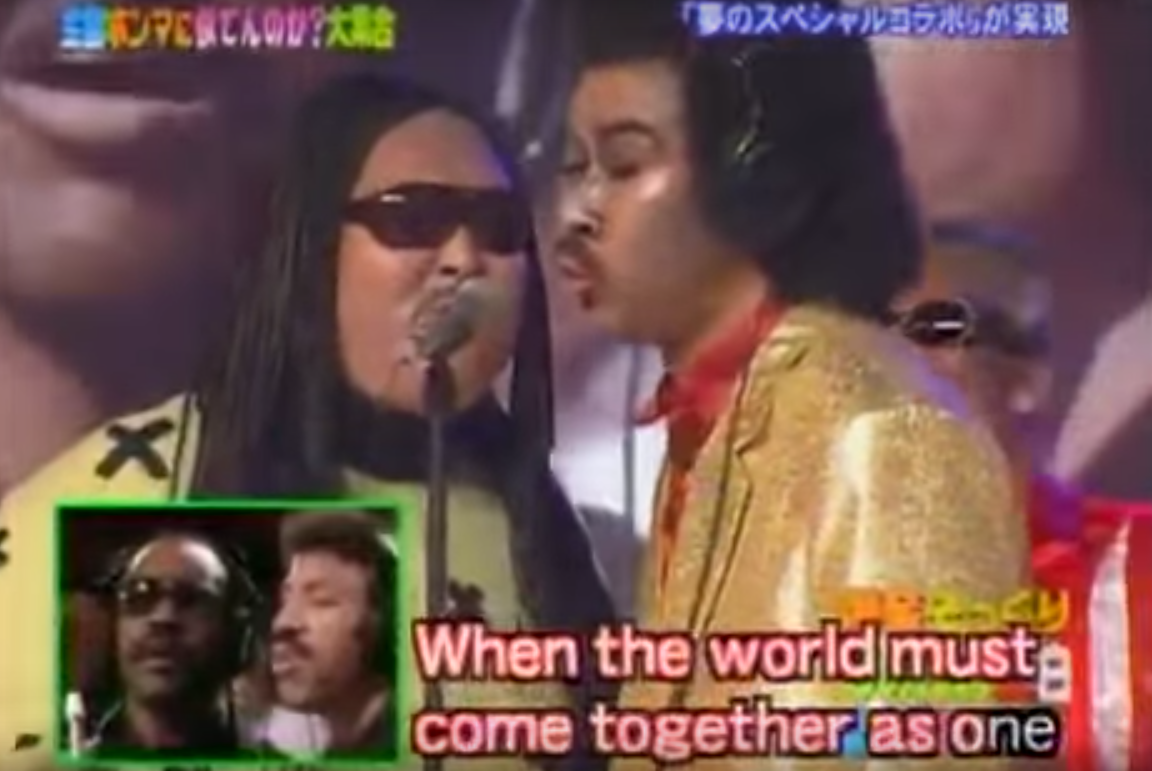 If you've ever had a hankering to watch Japanese grownups dress as 80s pop stars and sing a really terrible version of We Are The World by Michael Jackson and Lionel Richie, you've come to the right place.
In a word "WOW."
Seriously, though, you won't believe this. It's some kind of Japanese X-Factor-esque TV show (I think). And, for some reason, a bunch of people (who can't sing) have dressed up as the supergroup that performed We Are The World in 1985 and ripped it to shreds.
And, when I say that they've ripped it to shreds, I mean they have thoroughly disemboweled the song and its performance in the most wonderful and dramatic way. There are sonic entrails everywhere… it is a truly beautiful sight and sound.
I've never seen or heard anything like this. They're all there – Richie, Jackson, Wonder, Lauper, Joel, Springsteen… man alive, what a cornucopia of sub-parr outfits.
Amazingly, these karaoke stars seem to be lip-sinking, which means that the hideous off-colour notes must have been their "best" studio performance. Quite, quite amazing. Breathtaking, in fact.
Personally, I'm not a massive fan of Michael Jackson or Lionel Richie (sorry, not sorry), and so I didn't like the original song (although I dig its raison d'être, obvs). But this version has changed my mind. I'm in.
Get a load of this:
Yeah? You like that? Good, right? Simply incredible.
MORE HORRIFIC MUSIC:
WORST YOUTUBE SINGING TUTORIALS EVER
TAKE THAT COVER NIRVANA'S "TEEN SPIRIT"
"WE WILL ROCK YOU" MONGOLIAN STYLE (actually, this one isn't awful, it's just weird)