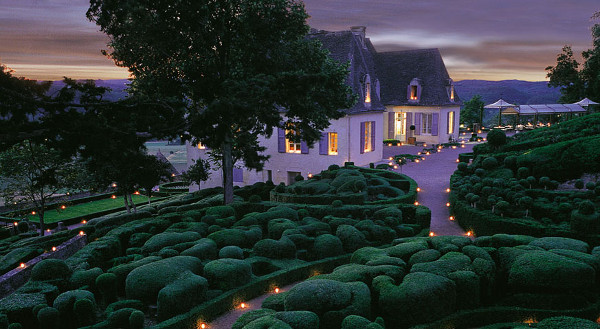 I recently wrote about how mother nature was a fickle old hag who produced terror on the one hand and beauty on the other. Here at Vézac we have an example of humanity borrowing Mother Nature's skill set and running wild with it.
The main attraction of Vézac in the Dordogne region of France is this incredible garden that surrounds the Château de Marqueyssac. The garden is justly classified as a 'remarkable garden' by the French Ministry of Culture. I don't know if that means they get any prizes or anything, but I hope it does.
The original garden was created by a pupil of André Le Nôtre who was the principal gardener for King Louis XIV of France and designed the park of the Palace of Versailles. A grand promenade one hundred metres long was added to the garden at the end of the 18th century.
Beginning in 1866, the new owner, Julien de Cerval, who was inspired by Italian gardens, built rustic structures, redesigned the parterres, laid out five kilometres of walks, and planted pines and cypress trees.
Basically it's amazing, even if it is just showing off:
MORE WONDERFUL PLANTS:
THE BIGGEST FLOWER IN THE UNIVERSE
THE PATIENT ART OF ARBORSCULPTURE
CHINA'S LUOPING OCEAN OF FLOWERS