History is often perceived to be a snooze-laden doom truck carrying snores all the way from a dusty old book to your dispassionate mind. This certainly can be the case, but sometimes, historical discoveries can also be genuinely exciting and insightful.
The biggest thrill for me about anything historical is getting just a tiny glimpse into the thought process of someone who lived centuries before me.
Often, these glimpses of the human side of history are truly fleeting,we can't expect to watch 13th century HD visions, we have to make do with clues and well-pointed guess work. This following treasure trove of humanity is a lovely glance at the mind of a child who walked, ran, played and cried nearly 800 years before we were born.
Onfim is known from some examples he left behind of his homework. His scribblings, far from being destroyed by Old Father Time, have been preserved by clay and leave a record of his absent minded doodles in the margin of his schoolwork. Experts have estimated Onfim's age to have been 6 or 7 at the time he wrote on the bark.
Thought to have been completed in around 1260, the art adorns pieces of birch bark. Onfim (also known as Anthemius of Novgorod) lived in the town of Novgorod, Russia. The town was surrounded by birch trees, the bark of which was used for many years as a retro style post-it note. Each year, documents like these are still unearthed in the region.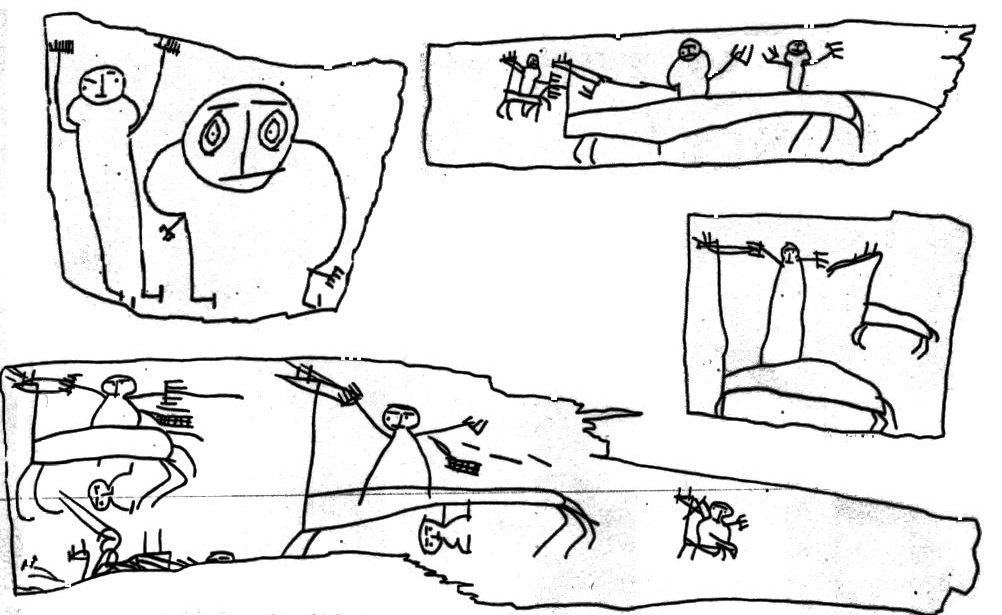 All in all, Onfim left us 17 bits of bark to enjoy. Some with drawings, some with writing, some with both. The texts are clearly homework exercises, Onfim practiced writing out the alphabet, repeating syllables, and writing psalms. In fact, the majority of his work involves reciting Psalms.
His artistry includes pictures of himself, his teacher, battle scenes and the one above which shows a picture of himself disguised as an animal next to the text "I AM A BEAST".
Humans, at a base level, really haven't changed all that much.
 MORE HISTORY:
VLAD THE IMPALER: WHAT WAS THAT ALL ABOUT?