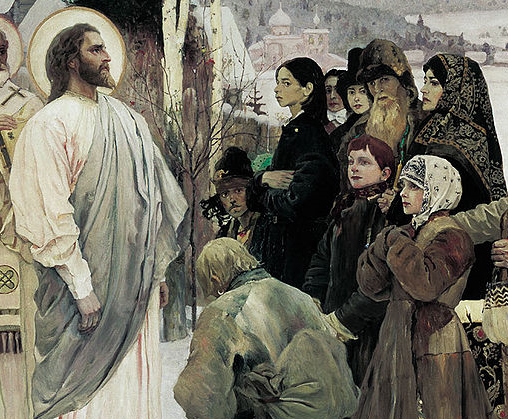 Mikhail Nesterov, in Russian – Михаи́л Не́стеров – was born in 1862 into humble circumstances. As the son of a merchant Nesterov struggled to find joy in his father's line of work. The life of a shop assistant certainly wasn't for him. He said that he…
felt alienated and useless, unable to sell anything but baby dolls and foil to decorate icons
At school things didn't go any better. He attended a school in Ufa for two years before getting expelled for bad grades and general misbehaviour. His parents were sure that a touch of independence might do the lad some good so he was shipped off to Moscow's technical college. He didn't exactly shine there either. Nesterov failed all his exams except drawing, calligraphy, and religion.
Thankfully for him, a teacher picked up on his painting ability; once he'd realised his true calling things started to go a little better for the young Nesterov. He eventually became a leading proponent of Russian Orthodox symbolism in painting.
Nesterov's works have a modern feel that shines through what could easily have been a Catholic-esque pomp fest. As an early adopter of realism the archaic religious icons take on a playful, almost cartoony look.
At the Imperial Academy of Arts Nesterov became a pupil of Pavel Tchistyakov who was a shining light in Russian realism, he also taught Ilya Repin. Later Nesterov allied himself more with the group of artists known as the Peredvizhniki.
The Peredvizhniki (loosely translated as The Wanderers) were a group of Russian realist artists who, in protest to academic restrictions, formed an artists' cooperative and traveled the country showing art to the natives.
In 1885 Nesterov married Maria Ivanovna Martynovskaya. Unfortunately, she died the following year whilst giving birth to their daughter, Olga. Nesterov later wrote:
The death of Masha made me an artist.
His paintings, which according to his own judgment had previously lacked feelings, now obtained them. From now on he depicted moods, not events. One of his most lyrical works, according to critics, is a portrait of Olga Nesterova, known as Woman in a Riding Habit (1906), which personifies a typical Russian girl from an upper-middle class family: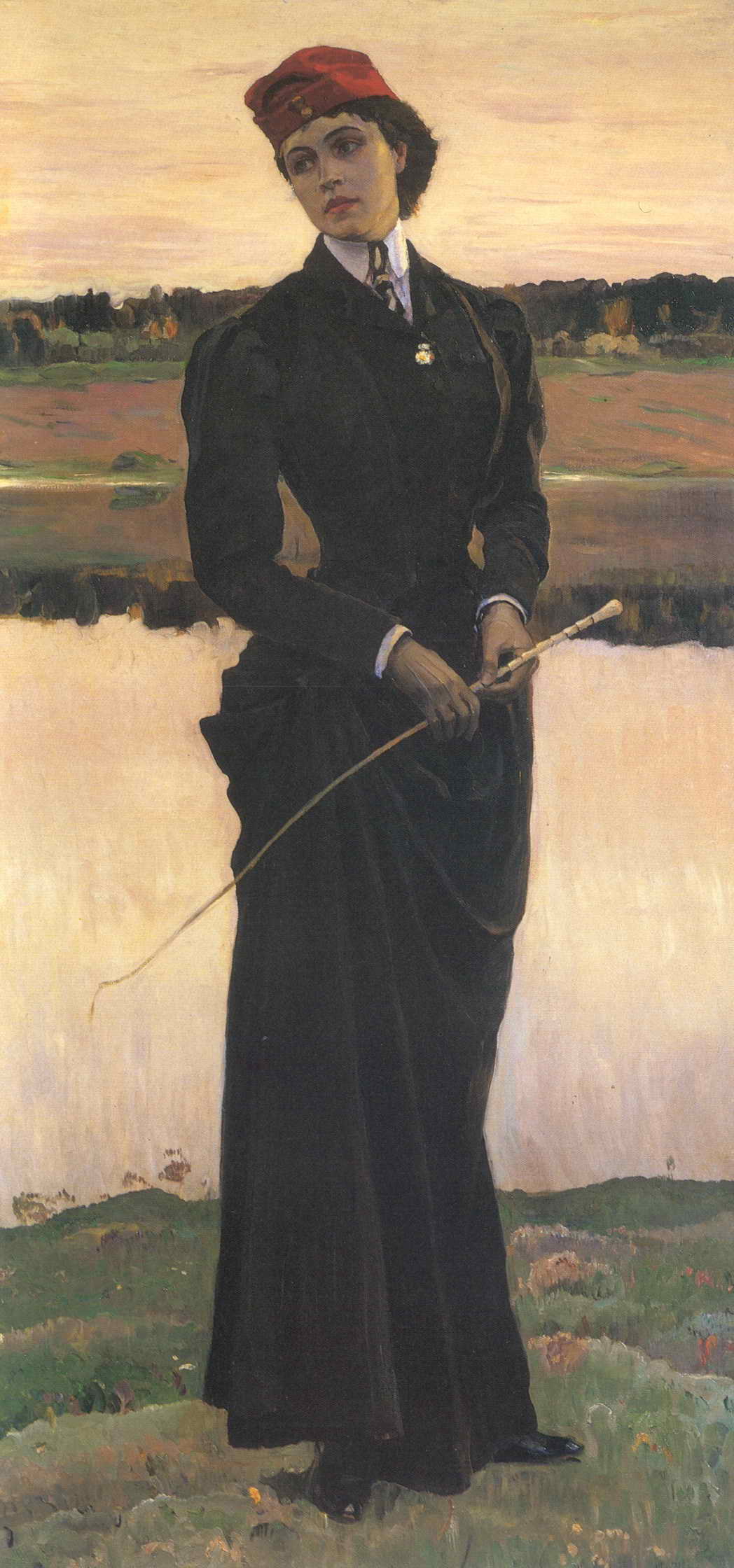 But the first painting to be completed after his wife's death was this somber affair called The Hermit: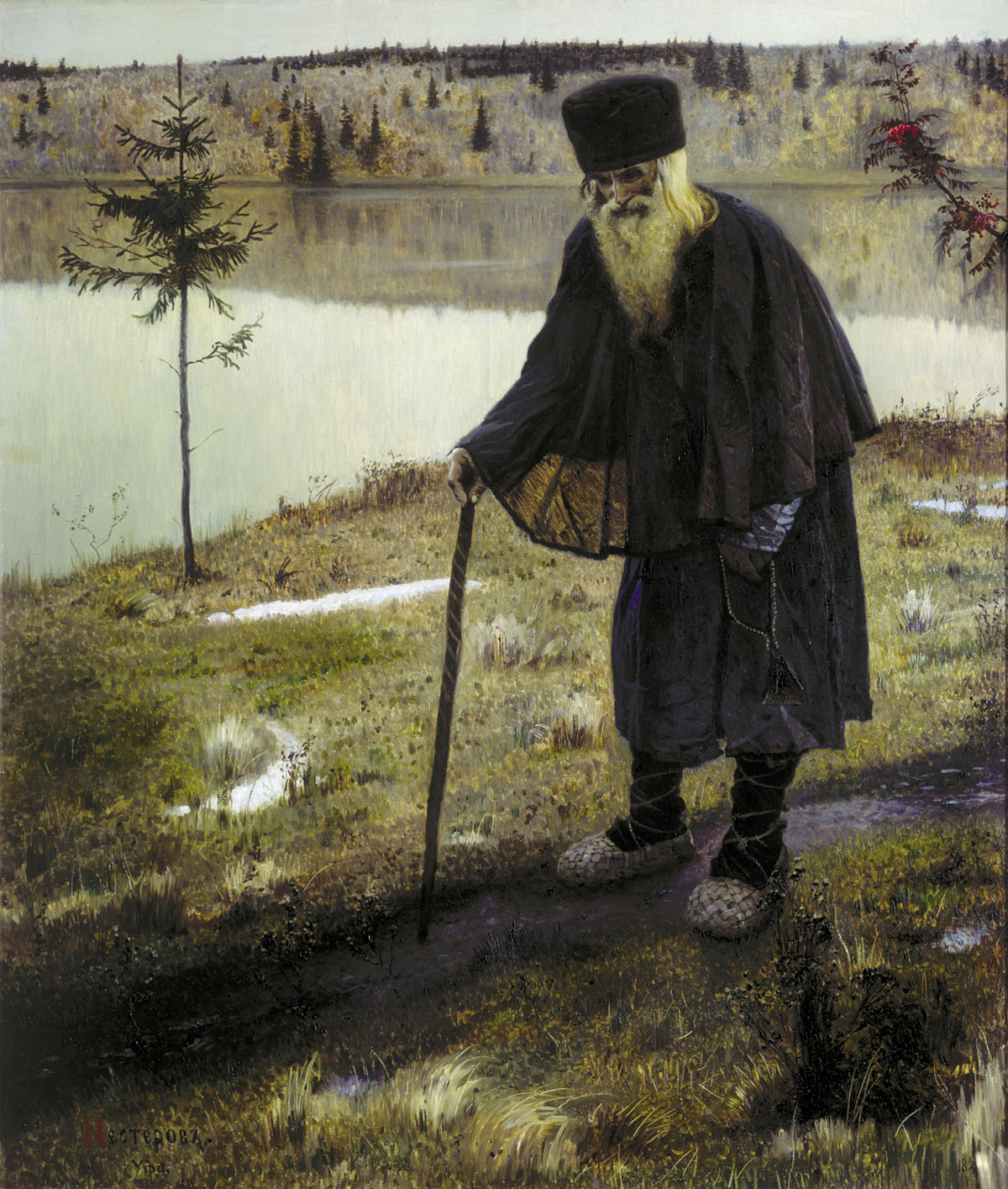 From 1890 to 1910, Nesterov lived in Kiev and St Petersburg, working on frescoes in St. Vladimir's Cathedral and the Church on Spilt Blood. After 1910 Nesterov lived in Moscow, working in the Marfo-Mariinsky Convent. As a devout Orthodox Christian he did not accept the Bolshevik Revolution which shunned all religious iconography in art.
He remained in Russia until his death in 1942. Here are some more of his rather lovely paintings: