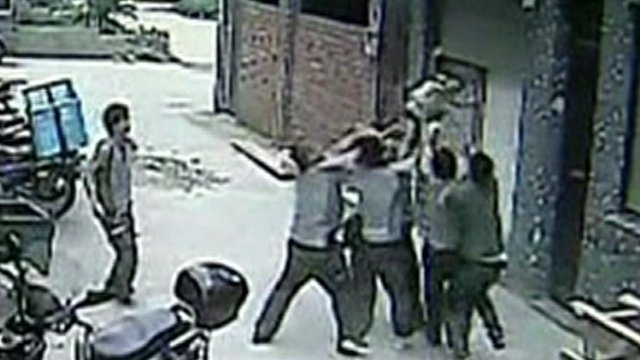 Chinese central state television – CCTV- recently aired this mad footage of the rescue of a two-and-a-half-year-old girl who fell from a window. Delivery men stood waiting below as she dangled from the window above on Thursday in Ninghai, Zhejiang Province.
As she plummeted, they managed to catch the little dipstick, named Qiqi. The parents said they had left Qiqi at home on her own while she slept, but she had woken up and decided it would be an awesome idea to climb on to the window sill. The girl cried out, workers from a nearby delivery company heard and legged it out into the road to see her legs dangling from the window. After calling to reassure her, they managed to break her fall with their outstretched arms as she plunged to the ground.
Two men were injured in the rescue; one hurt his neck, and the other his arm. Qiqi herself just got a graze and a life long fear of window ledges.
MORE FROM CHINA
THAMES TOWN, AN ENGLISH TOWN IN CHINA
4 WINGED DINOSAUR FOUND IN CHINA