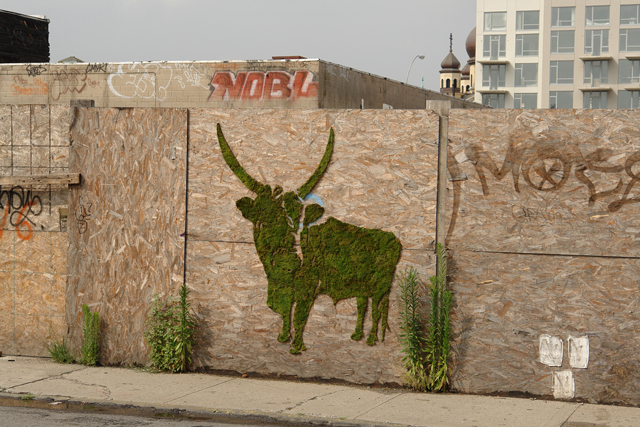 Moss graffiti, it's a new one on me, but it seems to be taking off in the States. I don't know if this would actually work in our ever rainy country, but it has to be worth a try.
It has to be the only type of street art that is actively good for the environment. I wonder what the legal status would be? Is growing a plant somewhere it's not supposed to be, against the law?
Check these out:
I'm too lazy to ever get myself together enough to try it, but it looks fairly simple. Basically, you get moss, mix it up with some other stuff, spray the moss mix on the wall, water it regularly and BANG you've got an artsy moss/wall/art/garden. Look:
 I wasn't sure whether it was legit, but I found some more pictures and a video 'how to' guide, so I have my fingers crossed that this will spark an artistic revolution in our towns and cities. There seems to be quite a lot on the internet about it, so hopefully it will catch on a treat with people less lazy than me.
 Here's a video guide if you fancy it…. let me see the mossy results if you decide to give it a bash, OK?
RUSSIAN STREET ART – LAMP SHADE
RUSSIAN STREET ART – BARBED WIRE
MURDERED POLISH ARTIST'S VISIONS OF HELL