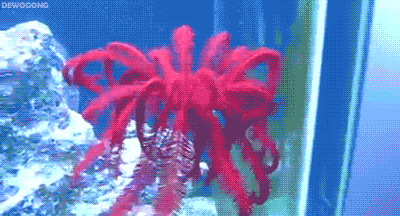 We've all seen a wide range of wildlife documentaries based on marine life. But the wonders truly are unending. Each time people go down there, they find something new and weird.
Feather stars have been known to science for a long, long time, but they've only been known to me for about 45 minutes. They are wonderfully strange.
These creatures were successful during the Ordivician period (485-443 million years ago), leaving a wealth of remains in rocks. It was widely thought that feather stars had gone extinct but thankfully for us they are still alive and kicking.
Technically, feather stars are crinoids; normally, crinoids are attached to the sea floor via a stalk, but these free-floating feather stars have a wanderlust; they've ditched the stalk and now roam free.
Interestingly, crinoids have a U-shaped gut, so their mouth and anus are next to each other. That's nice isn't it? However, feather stars are a particularly ancient breed and their gut is even less swanky: their mouth and anus share the same opening.
Free-swimming feather stars have 5 arms, each of which is repeatedly branched, giving them a couple of hundred branches in total. The arms are jointed and lined by smaller feather-like appendages.
Some of these feathery endings are called "tube feet" and they are vital for feather star feeding. Thousands of these terminal tube feet are covered in a sticky mucus that traps food as it swims through the water. Once they trap a tasty morsel, the feathers flick the food towards the ambulacral groove, a kind of mucus-lined superhighway to the mouth.
Although feather stars can swim wherever they fancy, often, they will attach themselves to rocks, via their grasping legs – cerri. There, they will sit tight, filtering the water as it flows by.
Feather stars are most commonly found from the Indian Ocean to Japan, but they also occur in the Atlantic. To really appreciate these guys, it's important to watch them in action:
Have you ever seen such a thing? And another… (skip to about 1 minute):
As you can tell from that video, feather stars aren't overly keen on moving around unless they have to. It is generally a response to predation. One more video for luck? OK:
Just incredible. What oddities. If you are wondering whether they can be kept in an aquarium, they can, but it doesn't normally go very well so you probably shouldn't try it.
Experts think that, because they rely on ocean currents for their food, and replicating currents in a closed environment is a little tricky, the critters can't thrive.
Also, in the wild, the feather star's limbs easily break off to help it escape predators. The limbs quickly grow back, but in captivity, they fail to do so and, because their arms are essential for feeding, they basically starve to death. Poor things.
Having said that, there have recently been technological aquarium-based advances. Aquarium experts have been busy investigating particle size and food type and, apparently, leaps and bounds have been made in feather star care.
Before you get too excited, feather stars are still for the dedicated aquarium keeper – novices need not apply.
MORE WEIRD OCEAN STUFF:
THE STRANGE, STRANGE OCEAN SUNFISH
SAILFISH: THE FASTEST FISH IN THE SEA
THE FIN WHALE – 2ND BIGGEST ANIMAL ON EARTH