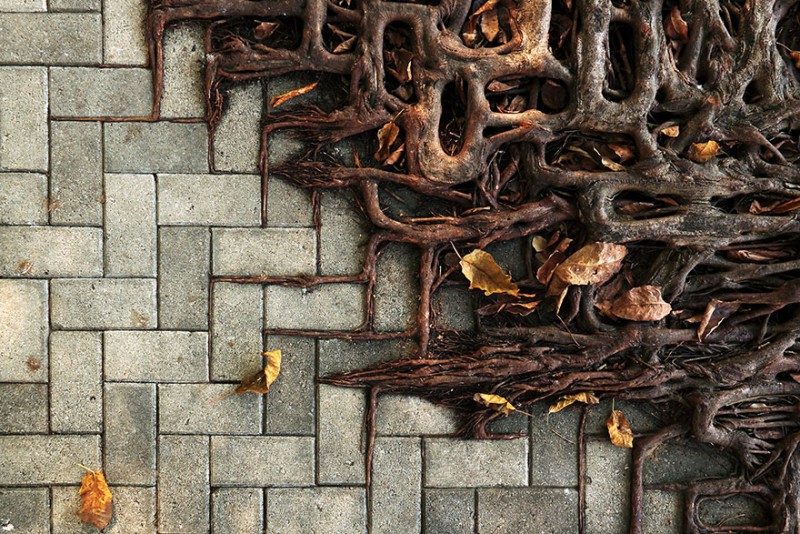 Hands up, who loves tree roots? Obviously, all the hands in the world are up. Sometimes roots are above the soil, sometimes they're below it. Sometimes, they are poking up above water, maybe they're attached to a wall. They are wild.
But, more importantly, they are highly functional and generously beneficial to the plants that they feed, support and keep company. Who doesn't like form and function rolling together in holy unity? Nobody, that's who.
Roots serve five important roles:
1) Suck up delicious nutrients and water
2) Store those delicious nutrients and water
3) Anchor that frigger down tight
4) Send signals to the rest of the plant telling it to "GROW!"
5) Behave and look like a boss
Roots are estimated to have been on earth since the late Silurian period (c. 420 million years ago). But, before you run off to share that date with all of your friends, the date is a "maybe.' Apparently it's pretty hard to tell when roots first appeared from the fossil record.
The problem is that fossilised remnants of the spaces where tree roots used to be looks quite similar to an animal's burrow. But, whether they are Silurian or later, they outdate us mortal humans by a large margin. Nothing we can build will stop their mighty growth.
To summarize: roots are solid, food-bringing mo-fos without a single care in the world. Hey, I know I'm banging on about roots a little more than I normally do, but get these in your eye pipes and you'll see why:
MORE TREES:
THE DANCING TREES OF KALININGRAD
THE SOUND OF A TREE TRUNK PLAYED AS A RECORD
BOSCO VERTICALE: A VERTICAL FOREST