The giant squid (genus Architeuthis) is a mysterious, gigantic and private chap. Science has known about them for some time, but they remained elusive, seemingly not keen on having their photos taken.
The first image of a giant squid in its natural habitat was only snapped in 2004 (below) and the first video footage of a live adult specimen wasn't taken until July 2012 by the Discovery Channel. So it's not often we're able to witness the giant squid in all of its huge glory.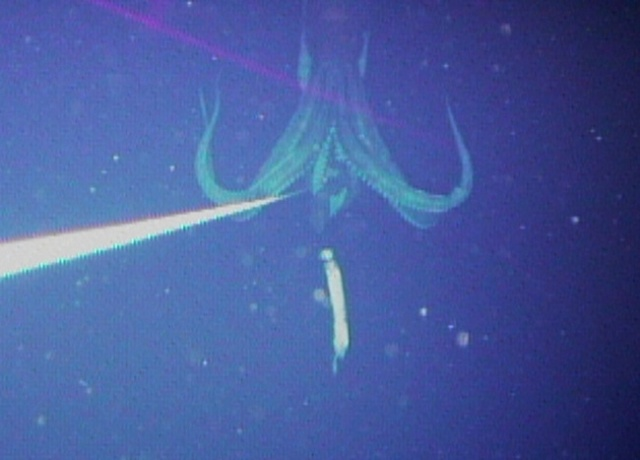 The image below was the first to be taken of a giant squid adult (out of its environment). It was taken on Goshiki Beach, Kyoto Prefecture, Japan in 2002. The squid was found near the surface of the water, captured and tied to a quay where it died overnight: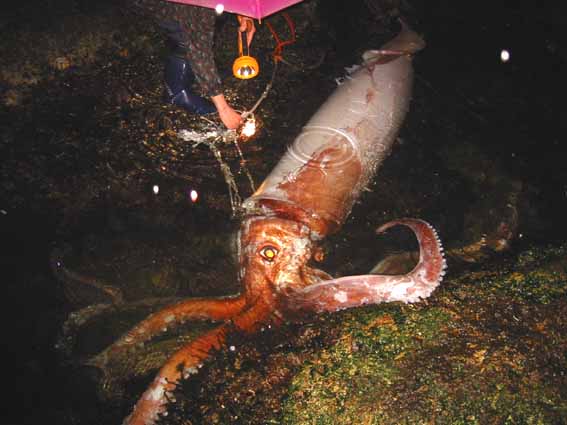 Giant squid are one of the largest creatures on earth; males are presumed to reach around 10 metres in length, and females 13. There are theories that these leviathan can even reach up to 20 metres in length, but that is yet to be corroborated with any solid evidence. The giant squid sports a pair of the largest eyes in the animal kingdom (except for perhaps the colossal squid) with a diameter of at least 27 cm (11 in).
Little is known about these beasts of the deep, but we do know that they have complex nervous systems and often become the dinner of sperm whales. It is from sperm whale guts that we have garnered the majority of our knowledge of the giant squid.
The following footage comes from Russian waters and features a gaggle of seamen trying to wrestle a squid's suckers away from their latest catch. The fishermen win. This time:
Although our sightings of giant squid are rare, they are not considered endangered. The squid seem to occur across much of the earth's oceans ranging from 300 to 1000 metres below the surface. The main problems with documenting and studying these animals are the depth at which they live, the lack of knowledge as to their general life cycle and the fact that the ocean is one huge area to search about in.
As time goes by, no doubt, we will understand more and more about these epic creatures.
MORE OCEAN ODDITIES:
THE TERRIFYING COOKIE CUTTER SHARK
WHY ARE THRESHER SHARK'S TAILS SO LONG?
THE SECOND BIGGEST ANIMAL IN THE WORLD – THE FIN WHALE