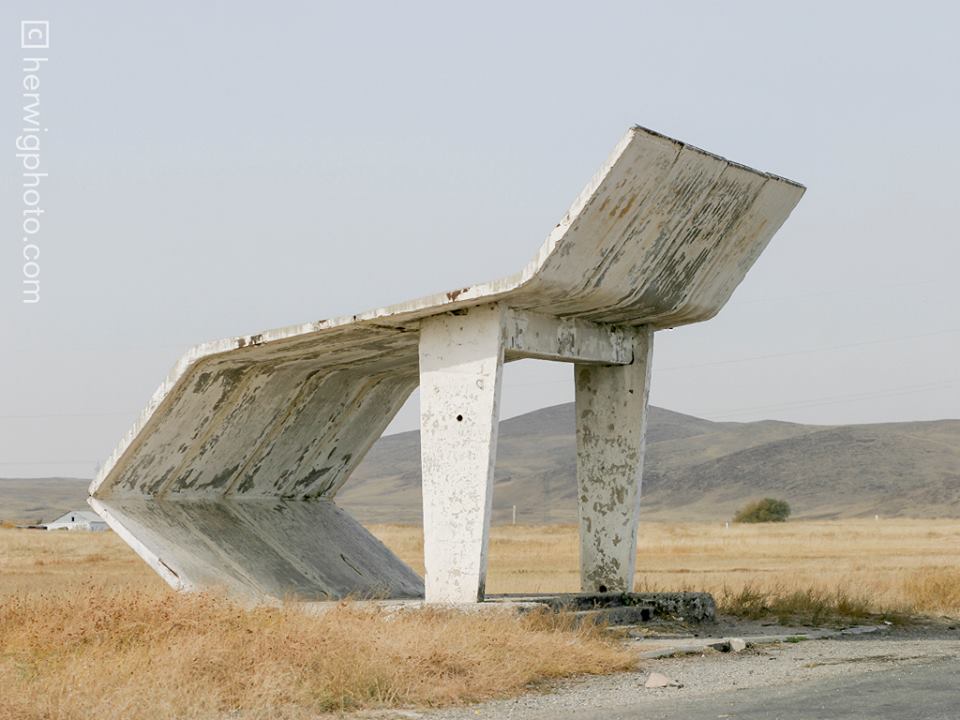 Photographer Christopher Herwig traveled 30,000 km across 13 countries over 12 years, photographing Soviet era bus stops. That sounds like a pretty mad thing to do, but he's got a best selling book out of it and some amazing photos, so who's laughing now?
Herwig's passion for Soviet bus stops started on a bike ride from London to St Petersburg in 2002. He set himself the challenge of taking one good photo an hour, and these odd monoliths popping out of the unchanging vistas were as good a place as any to take an interesting picture.
Herwig's journey through the "Stans" – Kyrgyzstan, Uzbekistan, Tajikistan, Turkmenistan and Kazakhstan – provided some of the most amazing shots. With little sign of human habitation for miles, these bus stops appeared like they were dumped in the middle of nowhere, for no other purpose than to stamp the mighty stamp of Soviet Russia across an entire land. And I guess that was sort of the point. Whether you lived in a desert or on a forested mountain, there was a Russian emblem placed somewhere nearby to remind you who was in charge.
FOLLOW HERWIG ON FACEBOOK HERE
Before showing off some of Herwig's hard won snaps here's a word from the great man:
This photo series is likely the largest collection of Soviet Bus Stops ever assembled. A tenuous claim to fame, I admit, and a strange obsession to have. But still, it's one that I am proud of and I hope it will help to preserve this unique and historical art form.