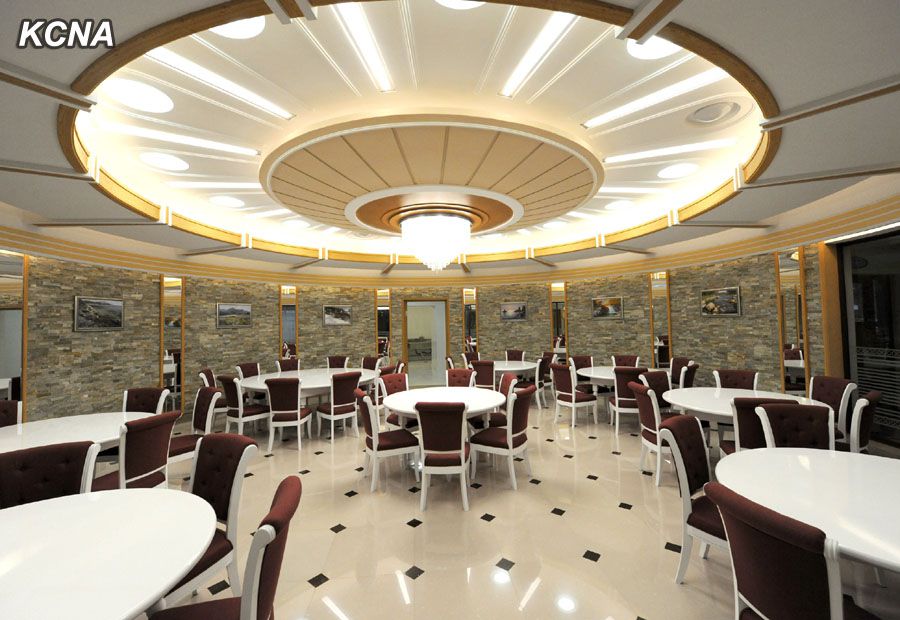 The following pictures certainly don't seem like they could have come out of a country that's wracked with poverty and hunger. But I suppose it is the type of building you might expect to see being built by a country that's constantly trying to appear modern and self sufficient. North Korea fits the bill in both cases.
Anyone who's read about the state of some of North Korea's building projects might well be amazed at the high standards being shown below. Although I suppose we'll have to wait and see if a mild storm ruptures the cladding and demolishes the end gable.
According to KCNA this "rest home" in Yonphung includes…
…general service center, multi-purpose outdoor sporting ground, indoor and outdoor wading pools, video room and angling site whose architectural composition and elements are all new in form and content.
They go on to say…
There are many important construction projects in different parts of the country as it wages the drive for building a thriving nation, but Kim Jong Un made sure that the scientists rest home was built before others.
North Korea likes the outside world to think it is a thriving scientific nation, despite the entirety of the rest of the world knowing they are struggling and backwards. Take a look at their architectural vision of the future if you want to be assured they are well and truly stuck 40 long years behind everyone else.
MORE FROM NORTH KOREA:
NORTH KOREA RELEASE HUMAN RIGHTS REPORT ON THEMSELVES
THE NEWEST SURFING DESTINATION – NORTH KOREA