Wrangel Island is no venue for a beach holiday, not if you want to survive, anyway. Saying it's "a bit nippy" would be the mother of all understatements.
Wrangel Island sits, shimmering in the Arctic Ocean, between the Chukchi Sea and East Siberian Sea, astride the 180° meridian. Here's where this desolate land lies:
The majority of Wrangel and its tiny neighbour, Herald Island, are now protected nature reserves. Scientists believe that Wrangel Island may have been the last place on earth that mammoths survived.
Mammoths probably survived there up until 2000 BC — that means that they were probably still around while the pyramids were being built.
Some scientists think that the Wrangel Island climate warmed up for a period, which allowed humans to visit more frequently and, eventually, kill them off.
Other scientists wonder whether the relatively small population of mammoths on the island might have fallen victim to inbreeding. Others still believe there is evidence that they fell foul to "freshwater quality issues" or "catastrophic events."
It is likely that a combination of the above factors (and others) converged to seal their fate.
Here's a photo collection of images taken on the island. They're beautiful:
The only human residents that live on this 93 mile long island all year are four rangers; around 12 scientists work on Wrangel Island during the summer months.
The climate is very cold and very dry. Average yearly temperatures are between -7 and -13°C but it has dropped to as low as -57.7°C.
These are musk ox either having a chat or getting ready for battle. They certainly can't be arguing over space can they?
Dinner time for the arctic fox.
MORE RUSSIAN WILDLIFE: KAMCHATKA WILDLIFE PHOTOS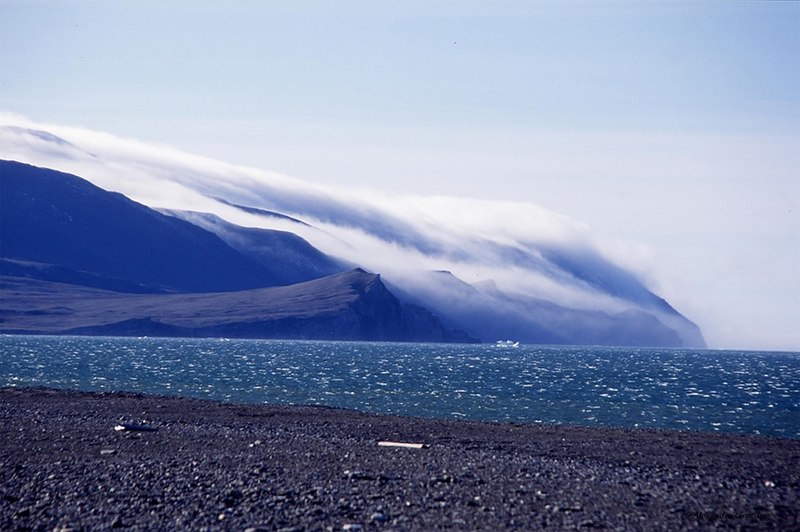 Wrangel Island is home to thousands of rivers and hundreds of lakes, making it a nice place to be if you're an animal. Have you ever seen an owl having a swim? Was it an error? Or was he just in need of a wash? Here's video footage of an owl swimming if you'd like more of this sort of thing.
This polar bear looks miffed. I'd give him a wide birth if I were you.
MORE WILDLIFE PHOTOS:
It looks like an amazing place, but you wouldn't want to be marooned.