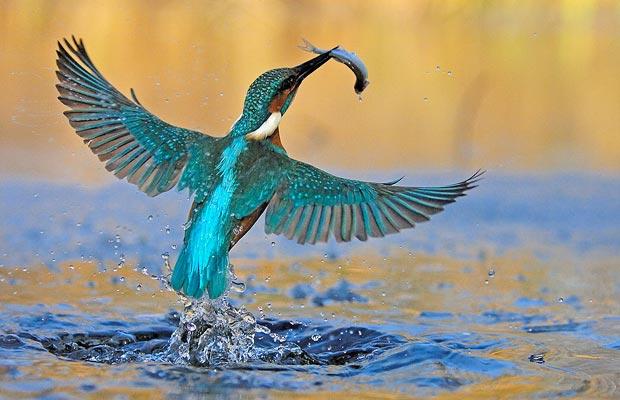 The kingfisher has always been my favourite bird, partly because it's one of the brightest coloured birds you're likely to see in the wild in Britain, but also because there's an air of mystery about them. Despite being fiercely territorial, when it comes to humans they're not keen on hanging around. The most you'll normally see on a ramble alongside an English river is a flash if iridescent blue following your accidental infringement on their hunting ground.
Kingfishers populate most of the world's habitats except the poles and the deserts and kingfisher fossils have been found in Germany dating back 30-40 million years. They've been silently wielding their dagger-like beaks with the stillest of quiet drama for millenia. There are about 90 kingfisher species all told, spread from the Americas to Oceania, Africa, Asia and beyond.
In general they live in tunnels they've dug with their pointy beaks, most often in muddy river banks.
The smallest kingfisher is the African Dwarf Kingfisher which is just 10cm long and weighs around 10g.
The largest of the family is the Giant Kingfisher which can reach 45cm and weigh 355g. The Giant Kingfisher can dig tunnels up to 28ft long.
The heaviest kingfisher is the Kookaburra who commonly tips the scales at 450g, to put that into perspective that's almost as heavy as a can of beer.
The stunning visual radiance of a kingfisher is not achieved by pigments, but is due to the Tyndall effect. Kingisher's feathers are structured in such a way that blue light is scattered preferentially.


Kingfishers have good binocular colour vision and are adept at adjusting for the bent light of water. They have a nictitating membrane that crosses their eye as they hit the surface to prevent damage. The Pied Kingfisher goes as far as utilising a bony plate that it draws across its eye when it bursts through the water's surface.
The Oriental Dwarf Kingfisher is considered a bad omen by the Dusun tribe of Borneo.


The Banded Kingfisher is considered a good omen by some tribes of Borneo. He does look pretty lucky doesn't he?:
I'm sure after looking at these beautiful pictures you too are now a convert to the ways of the majestic Kingfisher. And if you aren't, you are an idiot. Fact. Here's a video of an Irish kingfisher just to seal the deal:
If the kingfisher has whet your whistle for more bird action here's some more:
THE SMALLEST BIRD IN THE WORLD
WHAT DOES A HUMMINGBIRD SNORING SOUND LIKE?