Two news items about massive ancient beasts in one week!? My word Mr Universe you are spoiling me rotten.
Platypus Godzilla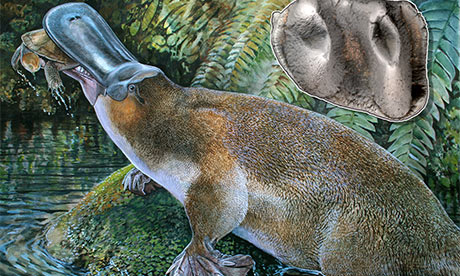 First up, some remains have been found that point to a massive prehistoric version of the duck billed platypus. Everyone's favourite furry freak. Modern day platypus are only about 30 cm long, so pretty diminutive. The platypus Godzilla however was around twice that size…. so… about 60cm to a metre long… oh.
I know, I know, that isn't as exciting as finding a whale eating frog or a horse eating ant. But it's not all like Jurassic Park you know, this is real life, damn it! The importance of the discovery lies in the fact that scientists previously presumed that the evolution of the platypus was pretty linear with little deviation and side shoots. This find shows that there were actually some other branches to this particular tree and that things weren't as straight forward for these weird, poisonous, monotremes as was once thought.
The newspapers are calling it a giant carnivorous platypus. What they actually should have called it was a slightly larger platypus that had teeth. But no one's going to click on that link are they? I used the same tactic myself so I'm not judging. I'm just cross at myself and the world at large. But then what sort of an idiot would want to read about something that isn't immediately exciting?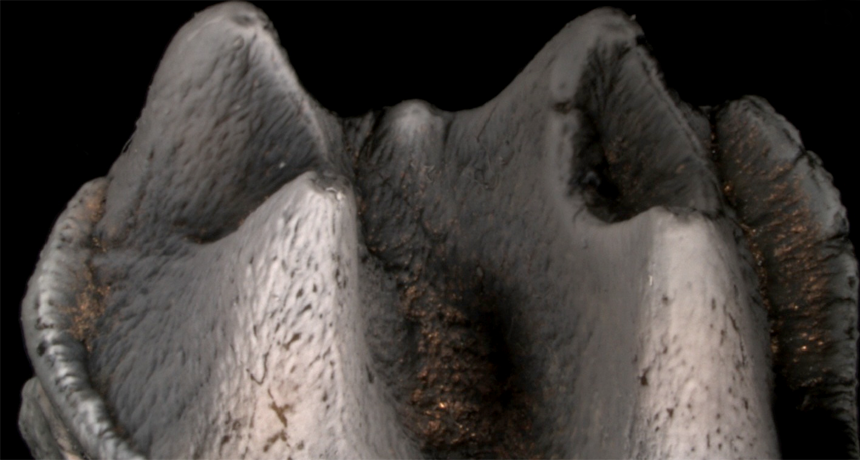 Anyway, this isn't about the state of the modern human's attention span…. what was I saying?
Oh yes…..
This new species of platypus, dubbed Obdurodon tharalkooschild, had teeth, the modern sort are born with teeth but they drop out as they mature and a horny pad takes the lead. So. Well. They are assuming this is a new species of ancient platypus from just one tooth?? Yes, but apparently the tooth is highly specialised and I guess they know what they're talking about and I don't. This giant platypus wandered and swam on the mega continent of Gondwana land a good few millions of years back. It's a shame we missed him.
Next:
THE KING OF GORE!!!!
Now this monster is visually impressive .
He's a new species of killer dinosaur that was knocking about around 80 million years ago and rocking up at 24ft long and 2.5 tonnes in weight. BOOM. You'd hear him coming wouldn't you? He used to hang about near the shallow sea that once split North America in half. Overly excited paleontologists have named it Lythronax argestes, which means "King of Gore of the South West". Pretty cool, but they can't keep naming things at that velocity, before they know it they'll be naming new dinosaur finds "mega electric dino killing attack monster" and things like that, and that's just silly.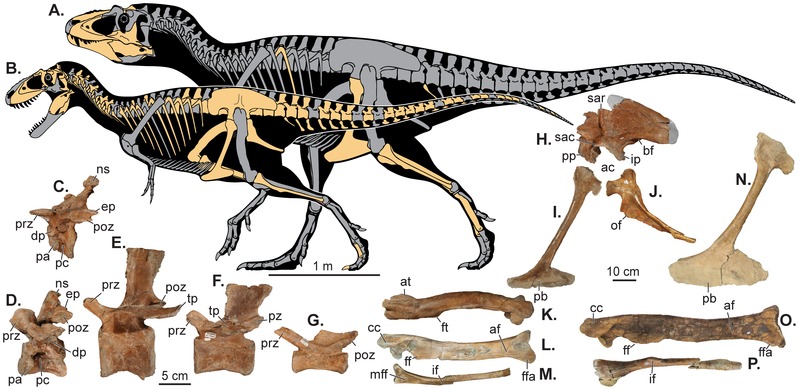 Lythronax argestes shows that tyrannosaurid dinosaurs evolved 10 million years earlier than was at first thought. Lythronax is not a primitive looking tyrannosaurid either, so this pushes the blood line even further back into the dusts of time.
The shape of his skull shows that he probably had good binocular vision, that combined with a head full of teeth tells us he was probably a pretty nifty predator.
MORE:
ARE FLYING DINOSAURS ALIVE AND WELL IN PAPA NEW GUINEA?
DINOSAUR RECOSNTRUCTIONS, THE GOOD, THE BAD AND THE UGLY
HOW TO MAKE A MASSIVE T-REX HEAD