Some days when the world is getting a bit too hectic, or the boss has told you off for staring out the window again, or your friends are doing your head in going on about the X-Factor, or all of the above, the idea of running to the hills of Siberia and just chilling out for the rest of your life sounds amazing.
I think most people at one point or other have relished the thought of total seclusion and a wild way of life. Not many people actually go though with it though. We all know that however much the world is doing our head in, we would miss human company at some point. Maybe not for quite a while, but it would come.
One man who has made good his escape is Victor (he won't give his surname). He used to work at the river port in Krasnoyarsk but at the tender age of 47 he decided to leg it to Siberia for a bit of solitude and harmony. Ten years on and he doesn't show any signs of budging.
He's now based in a little hut on the banks of the Yenisei river in Siberia and has no plans to return to the modern racket. I love these photos and I do harbour a little jealousy, but I know full well that if I were placed in his shoes I'd be dead in days because I'm about as useful as a frozen dog turd when it comes to being practical. Siberia is not a forgiving place to spend a winter.
He eats a lot of fish, and he can't be bothered to descale them. So he just bangs them down scales and all.
MORE FROM SIBERIA:
100TH ARCTIC CRUISE TO THE NORTH POLE
THE WILDLIFE OF WRANGEL ISLAND
CHAMP ISLAND'S MYSTERIOUS STONE BALLS
OLDER PEOPLE LOOKING COOL IN OMSK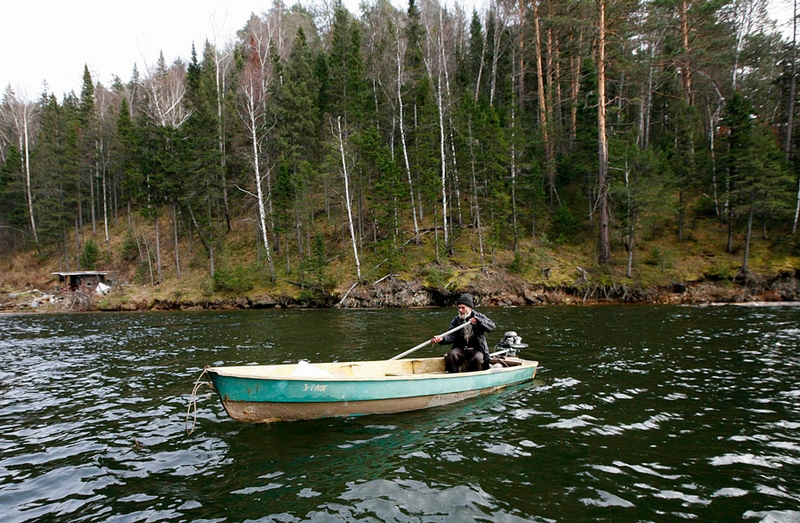 He spends a lot of time reading the bible and this is a special hat he made for the purpose. I'm sure God would approve.