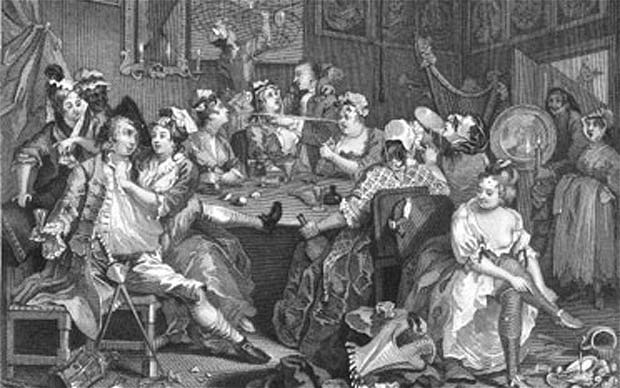 Here I am again, I'm still reading the Dictionary of the Vulgar Tongue by Francis Grose. As I said in my last post, I never thought I would read any kind of dictionary from cover to cover, but here we are, I've reached the end of the F section and I'm still powering through.
For anyone who's just joined this series of articles, here's what's going on: I'm going through this book of vulgar terms from 1811 and picking out my favourite entries, with the view to reintroducing some of them, or at least enjoying them once again. If you want to catch up with the previous posts before belly flopping straight in to the 'E' section, the others are here for your pleasure:
DICTIONARY OF THE VULGAR TONGUE #1
DICTIONARY OF THE VULGAR TONGUE #2
DICTIONARY OF THE VULGAR TONGUE #3
DICTIONARY OF THE VULGAR TONGUE #4
DICTIONARY OF THE VULGAR TONGUE #5
DICTIONARY OF THE VULGAR TONGUE #6
DICTIONARY OF THE VULGAR TONGUE #7
DICTIONARY OF THE VULGAR TONGUE #8
"EARTH BATH: A Grave."
"EIGHT EYES: I will knock out two of your eight eyes; a common Billingsgate threat from one fish nymph to another: every woman, according to the naturalists of that society, having eight eyes; viz. two seeing eyes, two bub-eyes, a bell-eye, two pope's eyes, and a ***-eye. He has fallen down and trod upon his eye; said of one who has a black eye." – there's a lot I don't understand going on there?
"EMPEROR: Drunk as an emperor, i.e. ten times as drunk as a lord."
"EVE'S CUSTOM-HOUSE: where Adam made his first entry. The monosyllable." –Just to explain, the author can't bring himself to write the C word, and neither can I, but that's what he means bythe monosyllable.
"FART. He has let a brewer's fart, grains and all; said of one who has bewrayed his breeches. – grains and all! HA!
P*ss and fart.
Sound at heart.
Mingere cum bumbis,
Res saluberrima est lumbis.
I dare not trust my a-se with a fart: said by a person troubled with a looseness."
"FARTLEBERRIES: Excrement hanging about the anus."
"FICE, or FOYSE: A small windy escape backwards, more obvious to the nose than ears; frequently by old ladies charged on their lap-dogs."
"FINGER IN EYE: To put finger in eye; to weep: commonly applied to women. The more you cry the less you'll p*ss; a consolatory speech used by sailors to their doxies. It is as great a pity to see a woman cry, as to see a goose walk barefoot; another of the same kind."
"FINGER POST: A parson: so called, because he points out a way to others which he never goes himself. Like the finger post, he points out a way he has never been, and probably will never go, i.e. the way to heaven."
"FLAP DRAGON: A clap, or pox."
"FLAT COCK: A female."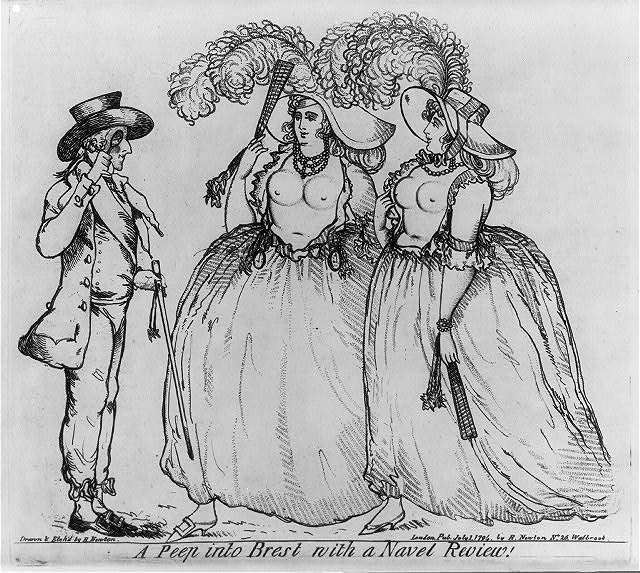 "FLYING PASTY: Sirreverence wrapped in paper and thrown over a neighbour's wall." – Just so you know 'Sirreverence' is an archaic term for excrement. I hope this term doesn't come back in to common usage.
"FRESHMAN: One just entered a member of the university." – that's a term that makes many an Englishman cringe. It sounds too "American" to our ears. But there's actually quite a few words or phrases which we think of as being completely USA, but that are actually derived from 18th Century English. For instance, addressing a young boy as 'bub' is still used in modern America but dates back to 18th Century English, they use 'faucette' for tap which is from the English theft of a French word. 'Fall' for autumn is English too. 'Trash', 'Gotten' and 'Zee' instead of Zed for the letter 'z' were all born on our home turf, they just fell out of common usage in the UK but continued over the pond.
And lastly we'll finish off with a little bit of old school sexism…..
"FRUITFUL VINE: A woman's private parts, i.e. that has FLOWERS every month, and bears fruit in nine months."
"FUSTY LUGGS: A beastly, sluttish woman."