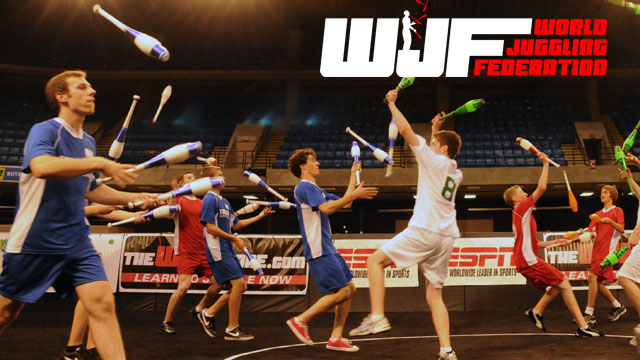 It's nice when someone sends you a link to a video and your eyes get to lap up something that you didn't even know existed. That's what happened to me today courtesy of the unstoppable internet Lord – Nathan. He sent me a video of a juggling competition, I haven't looked into the rules thoroughly (or at all) but it seems to consist of teams of jugglers trying to knock each other's clubs out of their hands.
I thought it was a joke initially, a dodge ball type spoof, but no. The World Juggling Federation are real, serious and professional looking. No clowns or gypsies here, just well turned out, strong American boys wearing sports attire.
Just so you are aware, The World Juggling Federation was given life in 2003 by Jason Garfield. Jason was once quoted as saying  "I hate most jugglers" and his Wiki page says he is "one of the most controversial members of the juggling community."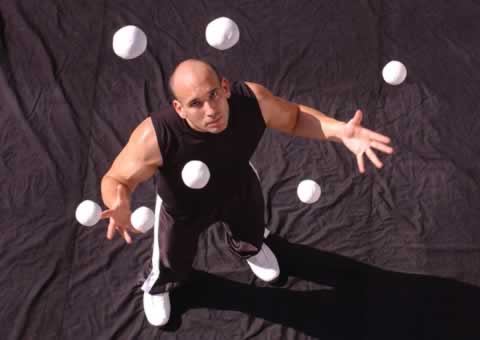 Here's the clip Nathan sent me showing highlights from the 2011 and 2012 Major League Combat Finals on ESPN, check the epic sound track too:
So I looked a little further and found possibly one of the oddest spectator events ever…. endurance juggling, here's the highlights from the 2010 World Juggling Federation Endurance Competitions. Apparently you get points for the number of catches you make:
It's pretty impressive isn't it? Ahhhh…. humans….. I love you. And don't worry if you are UK based, it looks like they're coming over here too….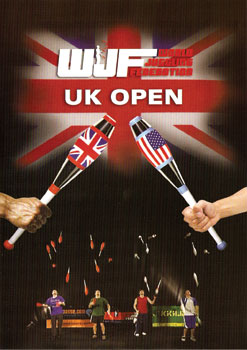 TROUSERLESS DANISH GOLFER WALKS LIKE PENGUIN