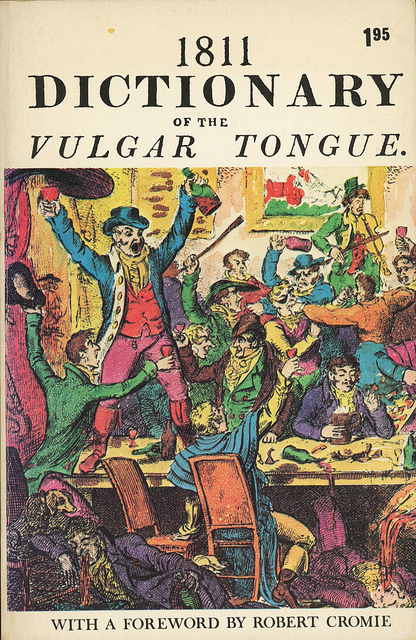 Here's installment number three in my labour of love: the slow and steady trawl through the Dictionary of the Vulgar Tongue by the prolific Captain Grose.
Grose was an English antiquary, draughtsman, and lexicographer and authored more than 15 books. But my favourite (and the only one I'm reading) has to be this little dictionary of vulgar terms of the time.
I've never read a dictionary cover to cover before and it's quite time consuming, unsurprisingly. But I'm sure you don't want to hear my winging, my main aim here is to try and reintroduce some olden day terms. The OED grows yearly with new words and phrases being born all the time, but what's wrong with a bit of recycling? So here's my favourite entries from the D section…
We shall start with a pleasingly obvious reference:
DAIRY: A woman's breasts, particularly one that gives suck. She sported her dairy; she pulled out her breast.
DAM: A small Indian coin, mentioned in the Gentoo code of laws: hence etymologists may, if they please, derive the common expression, I do not care a dam, i.e. I do not care half a farthing for it.
DANCE UPON NOTHING: To be hanged – that's not a term we can probably bring back into common usage, thanks to the fact that less peple over our side of the world are hung anymore. Phew. It's good and descriptive though, a powerful image.
DAVID'S SOW: As drunk as David's sow; a common saying, which took its rise from the following circumstance: One David Lloyd, a Welchman, who kept an alehouse at Hereford, had a living sow with six legs, which was greatly resorted to by the curious; he had also a wife much addicted to drunkenness, for which he used sometimes to give her due correction. One day David's wife having taken a cup too much, and being fearful of the consequences, turned out the sow, and lay down to sleep herself sober in the stye. A company coming in to see the sow, David ushered them into the stye, exclaiming, there is a sow for you! did any of you ever see such another? all the while supposing the sow had really been there; to which some of the company, seeing the state the woman was in, replied, it was the drunkenest sow they had ever beheld; whence the woman was ever after called David's sow – I like the use of the word 'drunkenest' in that little tale too.
DEADLY NEVERGREEN: that bears fruit all the year round. The gallows, or three-legged mare.
DICKED IN THE NOB: Silly. Crazed – I'm using that one, for sure.
DILBERRIES: Small pieces of excrement adhering to the hairs near the fundament.
DILBERRY MAKER: The fundament.
DIRTY PUZZLE: A nasty slut.
DISGUISED: Drunk.
DOODLE SACK: A bagpipe. Dutch.–Also the private parts of a woman.
DRAIN: Gin: so called from the diuretic qualities imputed to that liquor.
DROPPING MEMBER: A man's yard with a gonorrhoea.
DRY BOB: A smart repartee: also copulation without emission; in law Latin, siccus robertulus.
DUDDERING RAKE: A thundering rake, a buck of the first head, one extremely lewd.
DUKE OF LIMBS: A tall, awkward, ill-made fellow – I already have someone in mind for this particular insult.
DUMB GLUTTON: A woman's privities.
DURHAM MAN: Knocker kneed, he grinds mustard with his knees: Durham is famous for its mustard.
Well, I didn't know Durham was famous for it's mustard, and that's not the only thing I've learned today. Thanks for popping along with me. I'm going to get up off my dilberry maker to go and get disguised on drain and probably shall end the evening acting like I'm dicked in the nob.
DICTIONARY OF THE VULGAR TONGUE #1
DICTIONARY OF THE VULGAR TONGUE #2
DICTIONARY OF THE VULGAR TONGUE #3
DICTIONARY OF THE VULGAR TONGUE #4
DICTIONARY OF THE VULGAR TONGUE #5
DICTIONARY OF THE VULGAR TONGUE #6
DICTIONARY OF THE VULGAR TONGUE #7
DICTIONARY OF THE VULGAR TONGUE #8