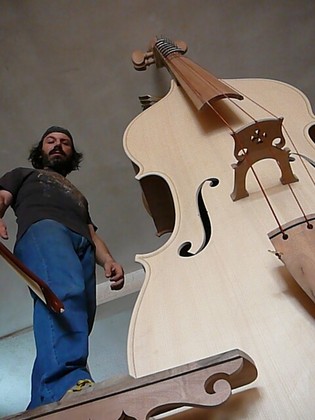 The Octobass is a massive musical instrument that you certainly couldn't fit in a mini. It's shaped like a cello but it's almost twice the size and, consequently the tone is twice as deep.
The lowest string is tuned a full octave below the lowest C on a piano. Basically, elephant talk. It was first produced around 1850 by Jean-Baptiste Vuillaume who was a prolific luthier of the time (someone who makes and mends stringed instruments, if you were wondering); he made more than 3,000 instruments in all.
The biggest of Vuillaume's creations was the Octobass. This monster was never manufactured to any great extent because it was pretty difficult to play, often needing two people: one to bow, one to finger. More modern octobasses were set up with levers that allowed you to play notes without dislocating your shoulders.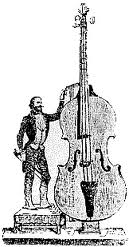 The video below shows Nico Abondolo playing one at the Musical Instrument Museum (MIM) in Phoenix. It's a haunting sound. Many composers of the day utilised it's unusual tone in their scores, including Richard Strauss, Mahler, Brahms, Wagner and Tchaikovsky.
Back in those days, before electrical amplification, the bass sounds were easy to lose in a full orchestra, so I would imagine the early performances with these things must have been quite surprising for the general public. Quite literally a visceral, hair raising experience.


Here's the one from the MIM being played, it's the only octobass in the Western Hemisphere apparently:
and here's Antonio Dattis playing one:
CLICK HERE FOR MORE WEIRD MUSIC
CLICK HERE FOR TALES OF EVIL POP