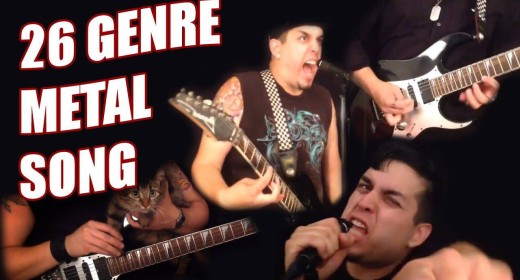 Yeah, so I still like metal despite being in my 30s. What you gonna do? Apparently you're supposed to grow out of it at some stage? Nah….
This video was made by DethPopVideos and shows a chap (and an occasional lady) traversing 26 different metal genres in four and a bit minutes, travelling deftly from A to Z. It may serve as a useful tool for those of us that have friends/colleagues that think metal all sounds exactly the same. Not that I can really be bothered with those conversations anymore. Some people are simply morons. And that, as a general rule, is unfixable.
MORE MUSIC:
KIDS PLAY TOOL SONG AND NAIL IT
GAMELAN INFUSED METAL FROM NISKALA
My only real gripe with the video is that he missed out Sludge, and "Quiet metal" isn't a real genre, but I'm not sure there is a genre beginning with Q, so I'm going to let him off seeing as it's early in the morning and I'm too tired to sulk.
The masterpiece has been up for a year or so now and it's pushing over 500,000 views, so I reckon he's probably made more than £1.50 from advertising already! Anyway, it gave me a chortle: