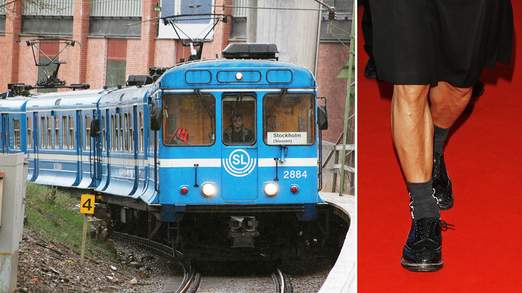 For my sins I've worked in stuffy offices for many a long year, anyone else who's worked in similar places during the summer months will know the following problem very well: It gets warm. The fairer sex switch to wearing light skirts or dresses, allowing a wonderful cool breeze to swish around their nether regions. Boys, on the other hand, are lumbered with the same trousers that they wore in the winter months. Shorts are not business attire so the poor gents are stuck sweltering to the chair by the seat of their pants.
I believe in equality, real equality, not some half baked, semi-cooked version of equality, but real equality where men and women get equal breaks and perks. If women have options to cool down in the summer then boys should have the same or equivalent avenues to take. I had often wondered whether blokes could wear a smart office skirt to side step this issue, and some plucky Swedes have proven my point wonderfully.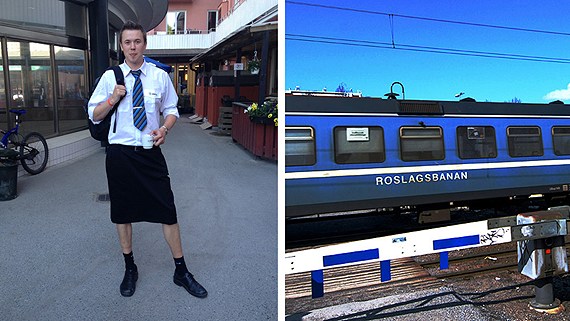 Train drivers on the Roslagsbanan line near Stockholm were fed up of driving in full trousers in the summer, temperatures in the cab can reach up to a sweltering 35C. They finally snapped and decided to wear skirts. Thanks to anti-discrimination laws, there's nothing Arriva can do to stop these 13 fashion rebels from mildly cross dressing to stay cool. One driver said "Of course people stare at you a little when you are on the platform but you just have to put up with it."
I am so proud of them. I'm tempted to try this myself at work, I live in Brighton so I don't suppose it would cause that much of a fuss. Should I give it a go if it's sunny tomorrow?
FINES FOR PEOPLE WEARING THEIR TROUSERS TOO LOW
MY FAVOURITE FLAGS FROM AROUND THE GLOBE