Rob Ford, everyone's favourite national embaressment is almost constantly in the news. This is a clip from a little while back before the huge tub of turd truly hit his fan. Because th video shows a politician hurting himself and swearing, of course it's going to go viral.
Rob Ford as I'm sure you know is/was the Mayor of Toronto and Director of a company that produces pressure-sensitive labels for plastic-wrapped grocery products called DECO. Cool. He is also well known for running from the press and being a little clumsy and unpolished. Oh yeah and smoking crack. And being racist in public.
So this video starts after a press conference or some other political snooze fest; on his way out was getting questioned by the paps, and somehow managed not to see a massive stationary camera at face height in front of him. He wasn't properly injured, but apparently had a 'slight headache'.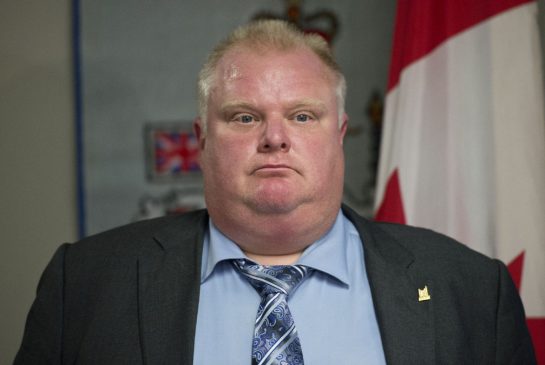 Unfortunately I can't find the unbleeped version, if indeed it exists at all, because I think that would be much funnier as he apparently drops the F-bomb. Totes profesh. It's still a good video though, bleeps or no bleeps.
He was always a football fan and still coaches the Don Bosco Catholic Secondary School's football team and has done since 2001. He doesn't actually play the game much himself now though judging by this clip. I like the guy:
If you liked that you'll love these:
FAT PEOPLE FALLING OVER PART 1
FAT PEOPLE FALLING OVER PART 2
FAT PEOPLE FALLING OVER PART 3